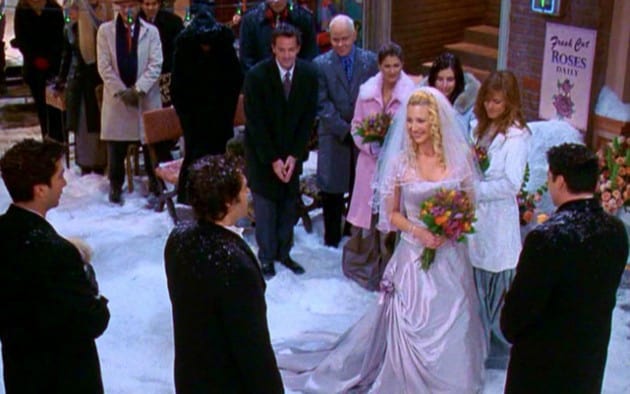 It seems like the end of an era, just like when Friends ended its amazing ten-season run on NBC back in the May of 2004.  We are up to the tenth and final week of TVOvermind's selection of the top episodes of each and every season of the hilarious comedy that brought us such catchphrases as "Pivot," "We were on a break," and "She's your lobster." We hope you enjoyed finding out our top picks for Friends episodes and used it as a helpful guide when deciding which ones to binge-watch on Netflix (or you could have just watched all 230+ episodes in a non-stop marathon–definitely nothing wrong with that). So here is our list of the three best episodes of Friends season ten. This is the season that Joey learns to speak French, Phoebe ties the knot, and Ross famously decides to get a tan.
"The One with Ross's Tan," original air date October 9, 2003
This episode should be reason enough why you should never get a tan. This proves there are other dangers to tanning than getting skin cancer. You can get too tan by not counting properly. This is the case with Ross, who decides to get a spray tan. He ends getting the entire tan on his front side when he does not turn before the sprayer goes off for a second time. He tries to remedy the issue, but keeps getting the tan on his front side. Luckily by the next episode, he looks like his normal pale self.
Monica and Phoebe are trying to avoid their annoying friend Amanda, who is played by Jennifer Coolidge. Monica learns that Phoebe tried to get rid of her early on in their relationship. This of course upsets Monica, but the two are able to make amends while Chandler is stuck being entertained by the self-centered Amanda.
This is also the episode of Friends where the relationship that never should have happened between Rachel and Joey ends. The two had a great time on their first date, but as soon as they get back to the apartment and start to kiss, Rachel slaps Joey's hands away.  The two decide they are better off as friends. Afterall, the show isn't called Odd Couple Pairings.
Best Quote
Monica: I can't believe you tried to cut me out. Why, Phoebe? Why?
Phoebe: It was right after we were living together, and you were driving me crazy. Okay, you were really controlling and compulsive and shrill.
Monica: I'm still all those things.
"The One Where Rachel's Sister Babysits," original air date October 30, 2003
What a better way to celebrate Halloween than having a Friends guest star? Christina Applegate returns as Rachel's sister Amy. This role won Applegate an Emmy Award for Outstanding Guest Star in a Comedy Series.  Maybe that is why she was brought back for another appearance?  Amy decides to call things off with her new beau and wants to move in with Rachel and Joey.  The nanny ends up calling in sick, so Amy volunteers to take Emma for the day.  They go shopping and Amy gets the baby's ears pierced.  Amy decides to start a new career as a baby stylist!
Elsewhere, Phoebe and Mike are celebrating their one year anniversary. They decide to go to a Knick's game where Mike has planned to propose. Before he does, they witness another couple doing this and Phoebe exclaims how that is the worst way to propose.  When she figures out that was what Mike was going to do, she decides to take him out to another game and propose to him. The crowd laughs at them.  The third time is the charm when the two go out to dinner and Mike pops the question.
In a third storyline, Chandler and Monica need letters of recommendation for the adoption agency.  Joey volunteers and sends them a letter before the two can read over what he said.  The agency calls to say they loved that Chandler and Monica had a child write the letter on their behalf.
Best Quote
Amy: Nana is on the phone.
Rachel: Oh, that's interesting, since she died seven years ago!
Amy: She did? Who got her condo in Boca?
"The One with Phoebe's Wedding," original air date February 12, 2004
You may be surprised that the final episode of Friends is not the third pick as a top episode of the season.  I did find the episode to be okay, but not as great as this episode where Phoebe finally gets married. The lucky man is Mike, played by the awesome Paul Rudd. Monica is planning Phoebe's big day and in true Monica fashion she is driving people crazy with her efficiency.  Phoebe loses it at the rehearsal dinner when Monica is trying to rush her through her own speech and fires her. Things start to go awry for Phoebe when a huge blizzard hits New York City. She has to hire Monica back to take care of everything. The venue gets moved to the street and Phoebe has one of the most elegant outdoor weddings with Joey performing the ceremony.  Chandler and Ross fight over who gets to be a groomsman after one of Mike's cannot make it due to the storm.  He ends up having the family dog take over the positon. However, the snow is too deep for the small pup so Ross escorts him.  Chandler is lucky enough to be able to walk Phoebe down the aisle.  What a great way to send off this funny character on the next chapter of her life.
Best Quote
Monica: Pheebs, spit that out, that has pork in it.
Phoebe: I thought the pot stickers were supposed to be vegetarian?
Yeah, I changed them. I sent you a fax about it.
Phoebe: I don't have a fax machine.
Monica: Ah, well then there are gonna be a few surprises.
What was your favorite episode from the tenth and final of Friends? Let us know in the comments section below.
[Photo via NBC]