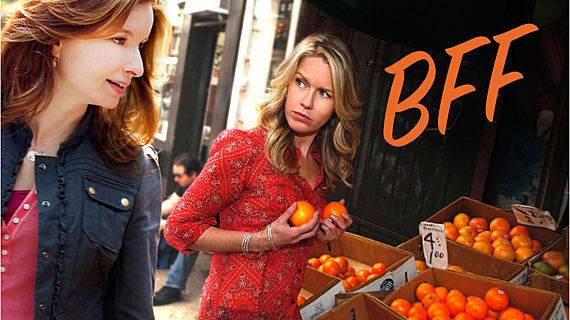 What would you do if your best friend moved in with you…and your boyfriend?
In NBC's upcoming comedy Best Friends Forever, that's the balancing act that Lennon (Lennon Parham) has to deal with, as best friend forever Jessica (Jessica St. Clair) recently had her husband file for divorce and has moved in with Lennon for emotional comfort. Problem is, Lennon recently moved in with her boyfriend Joe (Luka Jones), so their apartment just got a little more crowded.
Additionally populating the Best Friends Forever universe are Rav (Stephen Schneider), Jessica's old friend and pseudo big brother, and Queenetta (Daija Owens), a neighbor of the girls that's especially contentious toward Jessica. Best Friends Forever looks to be telling Jessica's story in addition to the story of Lennon/Joe accepting her into their place, as Jessica moving back to the city will cause her to confront a lot of stuff from her past. In order to move on from her ex-husband, she's going to have to work through it, but she'll have Lennon to help the transition to single life be as easy as possible.
The sneak peek below offers a glimpse at Best Friends Forever, both in front of and behind the camera. Mostly consisting of the cast walking us through the concept, it's punctuated by brief clips from the show, which range from Queenetta and Jessica squaring off to an errant Braveheart impression and homemade scoops. Best Friends Forever may be a comedy, but it's looking at the value of a solid support system and how friendships tend to change shape with the many experiences we have in life. People may come and go in your life, but there's not much that can replace a best friend, especially in times of need.
Best Friends Forever premieres Wednesday, April 4th at 8:30 on NBC, along with Betty White's Off Their Rockers and Bent.
Are you planning to check out Best Friends Forever when it debuts? Does the sneak peek make you more interested in watching an episode?
http://www.youtube.com/watch?v=zQzVkF7GnKI