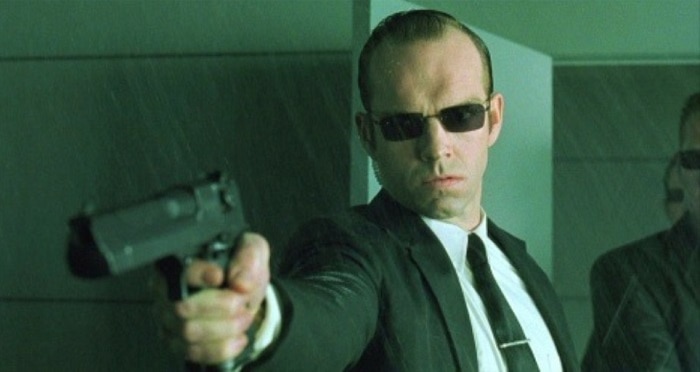 Hugo Weaving is someone that just seems like he can play the bad guy role without that much effort since it's a spot that he seems very qualified for. Even as a protagonist in a story he seems pretty severe, almost as though he's been reformed in some way but never made the full transition. In any case he's a fun character most of the time since he puts so much of himself into a role and sells it so well that you can honestly believe that he's that bad. But when he plays a good guy it's very easy to think that he might be that kind of friendly acquaintance that doesn't gladly suffer any foolishness but is a good person to have in your life since he's uniquely skilled in some way or has a great deal of authority that can be used whenever it's sorely needed. In other words, he's a complicated actor that can slip from one role to another and be just as good in every last one of them.
Here are his five best movies.
5. Captain America: The First Avenger
Adam Chitwood of Collider revealed that Hugo actually didn't want to come back for this role since it wasn't high on his list of movies that he'd like to continue with. While he did enjoy the experience of doing something new the MCU wasn't where he could see himself returning if given the chance, as he just didn't have any special affinity for it. You do have to admit however that he played a pretty good part since the Red Skull managed to be one of Captain America's most vicious enemies throughout his long history, though he wasn't bound to return all that soon given how the story went.
4. Hacksaw Ridge
Mike Miller of People has given an account of the real story of Desmond Doss, the man who fought for the US without ever picking up a gun. The fact that he saved 75 soldiers who might have otherwise died had he not been who he was is amazing to say the least. His father, who was against him going in the first place as he'd seen the horrors of war in WWI, eventually came around and defended his son's beliefs during a trial in which he'd been arrested for being insubordinate. It takes a lot of courage simply to walk into a war, but to do so without a weapon and armed only with the faith that you're doing the right thing is even more impressive.
3. The Hobbit: The Battle of the Five Armies
The reason this movie was great has to do with a few things no matter what people say, but we finally got to see Elrond with sword in hand being a certified badass as he takes on the ring wraiths and does so in spectacular fashion. It seems that Gandalf is an expert in getting himself into trouble, but at least the elf lords are able to come to his rescue and dish out some serious pain that allows Sauron and his minions to see what they're really up against. Being able to see one of the oldest characters in the story finally get in there and really bang with the bad guys was awesome and no doubt gave a lot of people more reason to respect him.
2. V for Vendetta
Roger Cormier of Mental Floss has a few interesting facts you might want to check out concerning this movie, such as the fact that Hugo wasn't the first pick for V. The movie itself though was something that some folks believed was rubbish while others loved it since it spoke of rebellion, which is a big thing these days and has been a very interesting talking point for many years. V is the kind of character that is full-on rebellion mode and is bound to do whatever it takes to make certain that as many people are going to follow him. It's not like he needed a lot of help to be honest, the people were already getting tired of the chancellor.
1. The Matrix
Ah Agent Smith, the baddest bad guy in this entire trilogy really since at the end even the machines were having trouble pinning him down and getting rid of him. Even Neo couldn't take this guy after a while since he was quite simply a virus and couldn't be destroyed as easily. But when he was hooked into the system in this first movie he was still pretty lethal since he could take down just about anyone until Neo finally started to believe what he needed to in order to take Smith down a few pegs. It was kind of satisfying to watch the agent get his butt handed to him and to only a moment later be destroyed.
Hugo is fun to watch since he just goes for it when he's acting, and that's great.