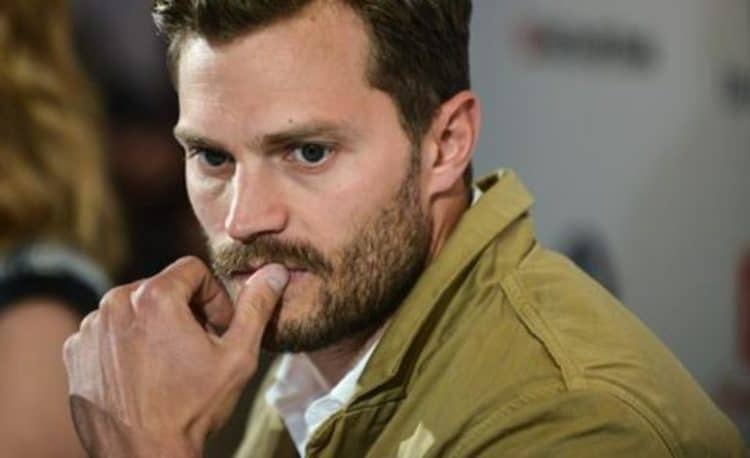 On the outside Jamie Dornan looks like one of Hollywood's many elite actors who has the looks, the charm, and the acting ability to be one of the best. Well, to be honest, he does have all those things and he uses them to the greatest extent possible, but it still seems as though he might be lagging behind others in a big way when it comes to securing roles that might really get him noticed. But then again it could be that he simply wants to do what he loves to do without complicating things by taking on the kind of roles that could make him a star the world over. Yes, he's already done that in a way, but if you're relying on the Fifty Shades movies for that factual data then you might find yourself in a rather roundabout argument about how the books were better, the movies were underwhelming, and the overall legacy is marred by the fact that people are glad there were only three of them. Jamie is quite honestly a good actor, but he seems to need something that will escalate his career just enough to be considered a truly legendary actor at this point.
Here are a few of his best movies so far.
5. Robin Hood
Chances are you're rolling your eyes at this entry since quite honestly critics lambasted the movie and called it one of the worst representations of Robin Hood ever. But if you take a look at history and recognize that few people in cinema have ever gained the full notice and appreciation of critics when it comes to this legend then you might be able to make up your own mind. This film wasn't as horrible as a lot of people have made it out to be, though it could have used some help here and there if only to make certain that it wouldn't be so negatively panned by the critics. That might have happened anyway, but the action and dialogue in this movie is actually a bit better than a few others.
4. My Dinner with Herve
Some would agree that the final days of Herve Villechaize, who played Tattoo on Fantasy Island, were filled with controversy and tragedy, but this movie decides to go into detail about how his life turned out and just who was responsible for it. Jamie and Peter Dinklage give performances that are inspired during this movie and make a lot of people believe that that whatever might have gone on during the filming of Fantasy Island, Herve and those around him were equally at fault for what went on that eventually forced him out of the spotlight. His death was still a tragedy however, but one that might have been brought on by his own hand.
3. The Siege of Jadotville
It's hard to imagine a lesser force holding off an opposing force that is intent upon overrunning them in a decisive manner, but this battle that many people don't even know about could have continued it seems if those trying to hold their position hadn't run out of ammunition. Sometimes simply standing down isn't an option and fighting for what you believe in and what you know is right is a strong enough reason to risk certain death. The idea that only sixteen were wounded in this engagement and none of the defenders were killed though is simply amazing and quite honestly something of a miracle.
2. Untogether
Films about relationships tend to get kind of messy in an emotional way since feelings are some of the hardest things to fight and yet are the most damaging things in the world when it comes to how they affect people. Trying to sort out a ball of feelings is in many ways like trying to sort out a knot that never seems to end and keeps twisting itself up again and again. In this manner it's almost impossible to win in any relationship, but at the same time it's also possible to just accept things as they are and deal with them rather than solve them, at least for some people. Those that try to figure out the feelings and motivations of others are usually those that end up getting hurt the most.
1. Fifty Shades of Grey
This is of course the movie that allowed his name to become known since the books were a huge lead-in to the movies. The argument over whether women really like to be objectified in this way is one that I won't bother having in this article, but needless to say this movie became an empty promise to a lot of women that had found the books to be intoxicating. While it didn't do the worst of any movie in the box office it left a lot of people wanting more.
Jamie Dornan just needs a good enough push in the right direction to really take his career to another level.