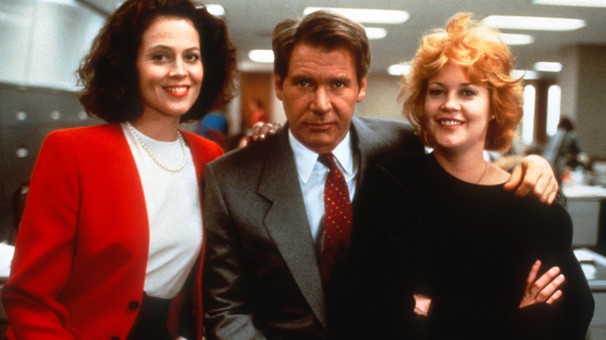 Melanie Griffeth is an actress who achieved success in the profession through her appearances on stage, in film and on television. Her career started in a variety of independent films in the thriller genre in the 1970s. During the middle part of the 1980s, her career in show business took off and she gained a huge following of fans with popular films including "Body Double" in 1984, which gained her a National Society of Film Critics Awards for her role as Best Supporting Actress. She also appeared in "Working Girl" receiving an Academy Award for Best Actress nomination and winning a Golden Globe Award. She received a Golden Raspberry Award for Worst Actress in "Shining Through" but went on to receive a nomination for a Golden Globe for "Buffalo Girls" and "Crazy in Alabama. Here are Melanie Griffith's five best movies of all-time.
1. Working Girl
Melanie Griffith plays the part of Tess McGill, who reports to Katharine Parker played by Sigourney Weaver. Parker is unscrupulous and when Tess gives her a business tip she steals the idea as though it was her own and doesn't give McGill any of the credit. Parker injures her leg and lands in the hospital and it's then that Tess gets her revenge. She impersonates Parker when she's out of commission and initiates a big deal with Harrison Ford who plays the part of a major investment broker. When Parker finds out about it all hell breaks loose. The film was released on December 20, 1988, directed by Mike Nichols with the screenplay by Kevin Wade. The film won a Golden Globe for Best Motion Picture Musical or Comedy.
2. Buffalo Girls
Buffalo Girls is a pornographic western with a long run-time of 3 hours on the big screen. This film featured Melanie Griffith as a brothel owner and Anjelica Huston as Calamity Jane. The film centered around an Old West Show on Tour in England, and the friendship and adventures between Huston and Griffith. Rod Hardy directed the film with the screenplay by Cynthia Whitcomb. It was first released on April 30, 1995, and went on to be nominated for a Primetime Emmy Award for Outstanding Limited Series.
3. Crazy in Alabama
Crazy in Alabama is the tale of Lucille Vinson, played by Melanie Griffith, which takes place in 1965. Vinson suffers at the hands of an abusive husband. She murders him and cuts his head off, then flees her hometown in Alabama to go to Hollywood to become an actress. Her nephew is Peejoe Bullis, played by Lucas Black. He observes a racist sheriff played by Meat Loaf Aday, murder a young black man and he struggles with whether or not to give testimony against him. The film centers around Lucille, with whom the law catches up with, her return to Alabama, and Peejoe's involvement with the civil rights movement. Melanie's then-husband Antonio Banderas directs the story with the screenplay written by Mark Childress. It was first released on September 9, 1999. The film went on to win a European Film Academy Achievement in World Cinema Award as well as an ALMA Award for Outstanding Director of a Feature Film.
4. A Stranger Among Us
A Stranger Among Us is a fim that follows the story of a missing Hasidic diamond cutter who disappeared with a fortune worth of gems in his possession. A tough New York police officer is assigned to the case and although it initially looks like a routine case, complications set in when the young man's dead body turns up and the diamonds are nowhere to be found. Griffith plays the role of the cop and it is her job to go undercover and blend into the Hasidic community to try to find the killer. While she is there, the young police officer has experiences which change her life forever. This film was directed by Sidney Lumet with the screenplay written by Robert J. Avrech, and music composed by Jerry Bock. It was released into theaters on July 17, 1992.
5. Body Double
Body Double was directed by Brian De Palma with the screenplay written by De Palma and Robert J. Avrech. It was first released into theaters on October 26, 1984. Craig Wasson stars as Craig Scully who was an actor who lost it all, his acting role along with his girlfriend. He's down and out until he's asked to housesit at a posh pad in Hollywood Hills. He's looking through a telescope one evening and he sees a beautiful blonde girl dancing in an adjacent home. Deborah Shelton is the actress who played the role of the girl. Scully sees the girl brutally murdered before his very eyes. This misfortune leads him into a world of adult entertainment as he's looking for answers to explain what he saw. It is during his investigation that he meets Holly Body, played by Melanie Griffith, who is a porn actress who serves as his guide. This show stars Melanie Griffith, Deborah Shelton, Gloria Revelle, Craig Wasson, Greg Henry, and Barbara Crampton.
Final thoughts
Melanie Griffith is still active in the film industry today. Her most recent works include a recurring role in the television series "Hawaii Five-O," "JL Ranch" in 2016, "The Path" television series in 2017, "Pirates of Somalia" in 2017, The television series "SMILF" in 2019 and the announcement of her role has been made for the upcoming film "Akil." Griffith is still beautiful at the age of 62 and she seems to be one of those special actresses who is timeless. We've only highlighted her five best films. She actually has a spectacular professional acting portfolio with 84 credits to her name. We're looking forward to seeing her latest production upon its release, which has yet to be determined.