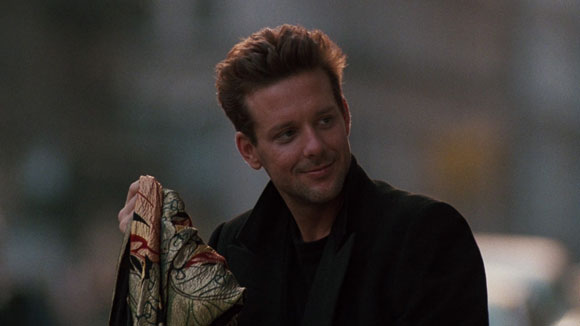 Mickey Rourke is one of those actors that a lot of people like but at the same time is easy to let slip by since despite being in so many movies and portraying so many great characters it would seem that all but his name was buried throughout the years as some people have forgotten what he used to look like when he was younger. He's still an impressive and sometimes imposing actor since he has the kind of stare and looks that allow him to seem absolutely intimidating, but it's also evident that he's seen better days when you see some of his most recent movies. He's still got a lot of talent and is capable of entertaining people, but it would almost seem as though he's entered his golden years in which he's not as popular as he once was and is simply taking whatever parts he can get to stay busy. Thankfully he's still a celebrated actor.
Here are five the best movies from his career.
5. Domino
There's something a bit off about turning a former model into a bounty hunter but for the purposes of this movie it kind of works since it creates a rather hardened individual that can easily hang with the guys and do just as much damage most times. But the issue of the missing money and a bad case of revenge is something that in the world of bounty hunting spells bad news and tends to muck things up quite a bit. By the end of the movie Domino is the only one left standing from her crew and eventually goes back to a life that is a little less intimidating and a lot safer overall. This movie was one of Rourke's best thanks to how raw it really was, but it seems to get overlooked quite often.
4. Sin City
Marv is one of the absolute best characters in this entire movie since he's big, strong, and doesn't really care who he hurts so long as it's not the wrong person. He's the type of guy that's not insanely bright but is smart enough to follow the trail of bad guys once he wakes up to find the woman he cares about dead. The manner in which he goes about finding the information he needs is pretty rough, but it's also one of the better parts of this movie since he gets so incredibly raw that you can't help but laugh or look away since the idea of anyone beating and torturing people in such a way is mildly disturbing at least.
3. Diner
A lot of folks have that favorite hangout spot that they gravitate towards in an effort to just sit, chill, and talk about things that they might not want to talk about around other people. It's a definite group thing that men and women both have and something they come to depend on in a way since with the group you can be who you are and don't have to hold anything back most times. But when one of the group in the movie is intent on getting married it seems that the others have to come to grips with their own lives and face facts that they're growing up and getting older and things aren't going to be the same they were.
2. 9 1/2 Weeks
Let's just put it this way, John is manipulative and is doing just about anything and everything he can to break through whatever barriers Elizabeth puts up to have his way with her. Initially it seems that he is opening her up in a very profound and possibly positive way. But when she presents the kind of sexual need that is fiery and passionate on the surface but turns out to be breaking her down on an emotional level it's kind of obvious that what he's done is breaking her will little by little. By the time she finally decides to leave the two of them have experienced one another in ways that many people would be insanely uncomfortable with.
1. The Wrestler
You can see this in the WWE these days and to be honest it's been happening for a decade or two now, old wrestlers that won't leave the ring either because they love it too much, or because they have nothing else. Randy is a guy that's tried the outside world and found it wanting, as he prefers life inside the ring despite the fact that thanks to a heart attack and his constant steroid use it could very well be the end of him. Upon trying to retire though he quickly realizes that the outside world might recognize him, but it doesn't respect him since he's a broken down old man that has nothing left to give but his reputation.
He's still a good actor, but times have definitely changed.