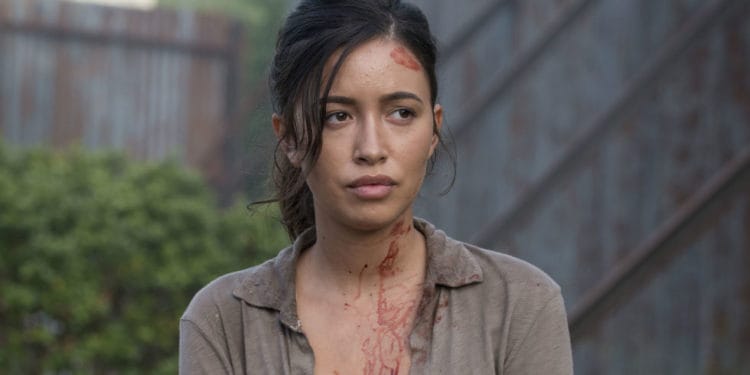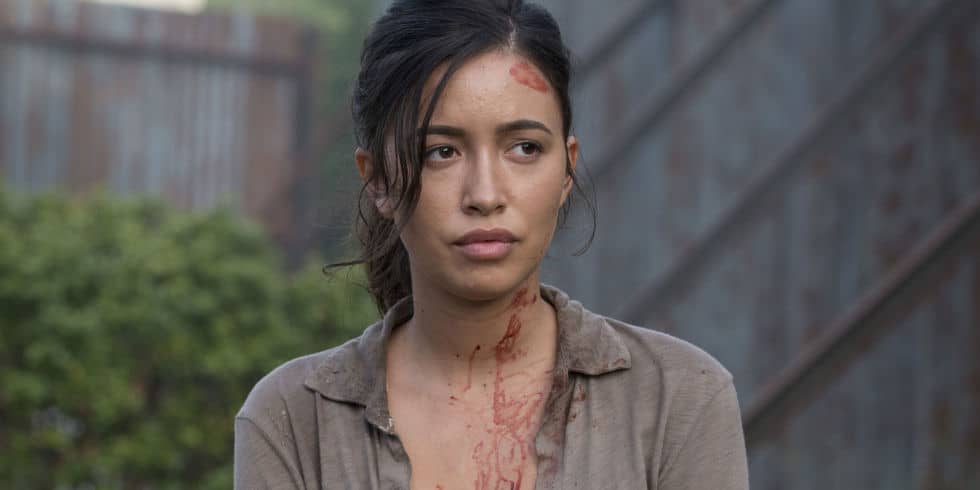 The Walking Dead, which is based on the comic book series of the same name written by Robert Kirkman, is a post-apocalyptic gripping and gritty drama which portrays what life is like after a zombie outbreak. The show's main group of characters is led by Rick Grimes, who is a former cop, his family, and a small group of survivors who find themselves pitted against daily pressures such as finding food and shelter as well as avoiding those who wish them dead, both zombies and humans. They are forced to constantly stay on the move, searching for a permanent safe home. However, they are confronted by group after group of humans who are way more dangerous than the zombies.
One of the main characters is Rosita Espinosa, who is portrayed by Christian Serratos. She first began her journey with another group when they were overcome and she was rescued by Eugene Porter and Abraham Ford who were trying to forge their way to Washington, DC. Abraham was impressed by her skills and requested her aid in taking Eugene to DC with what he believed to be a potential cure, giving both her and Abraham a sense of purpose. Her and her group joined up with them to travel more safely.
However, during their travels they repeatedly suffered casualties until the group dwindled down to just the three of them, Rosita, Abraham, and Eugene. They meet up with Grimes' group and decide to join them, albeit for a short time for safety reasons on their way to DC.
Rosita's character is brave, but feisty and makes a more than capable survivor with her skills and sassy nature. She tends to be mostly single minded in situations and can easily be have hot-headed reactions. She has little to no room for humor and when a threat is posed, she doesn't hesitate to do what needs to be done.
She may have started as one of the more obscure characters, but she's definitely earned her rightful place among the other main characters of the show. Here are our picks for five best Rosita scenes from "The Walking Dead."
1. Rosita's First Appearance
It doesn't seem right to start this list of scenes without including the first time we see Rosita, Abraham, and Eugene. This is where they meet Rick Grimes and his group, deciding to band up with them for the time being, at least. Little do they know at the time that they will not only end up remaining in the group, but that they all would become so close as well.
2. Michonne and Rosita's Close Call
In this scene Michonne and Rosita have a dangerous and explosive run-in while visiting the Sanctuary with two Saviors. Fight scenes with these two bad women are always cool to watch; watching them fight together is a treat you don't want to miss. This scene is often referred to as "the warehouse scene" as well.
https://www.youtube.com/watch?v=xfZS5t5aV1Y
3. Dwight and Rosita
Any scene depicting Rosita is obviously going to be on edge, but this one with Dwight shows just how feisty Rosita can be. If looks could kill, Dwight would seriously be in for some trouble!
https://www.youtube.com/watch?v=eqSd8f50JcE
4. Rosita and Tara
This scene shows that Rosita can show compassion, but that she is not giving up the fight as she begs Tara to tell her where to look for anything to help them against Negan. Rosita can only see as far as her need for revenge.
5. Rosita and Negan
In this scene Rosita shows she's not afraid of dying when she tries to shoot Negan. This intense scene shows what a bad*ss Rosita is while also showing the ruthlessness of Negan. There's no choice but to hold your breath while Negan decides what her punishment should be.
Rosita definitely brings her character alive and The Walking Dead wouldn't be the same without her sassy temper. These few scenes are only a small selection of some the best she's in, but there's so many more of her pivotal, important scenes which seem to make the show even better, such as "The fight for 'The Fat Lady'", her and Spencer finding Daryl's bike, her asking Sasha for her help, her killing countless zombies, her and Glenn searching for Daryl, the gross scene where Eugene throws up on her and then runs away, and who can forget the scene where Eugene betrays her and Sasha. There are just too many scenes to choose from, but we think we picked out five that show Rosita's spunk and character.
Although not a scene from The Walking Dead, but a compilation of scenes, we'd like to close with this video entitled "I'm still breathing." Rosita, you're one tough, sassy broad!