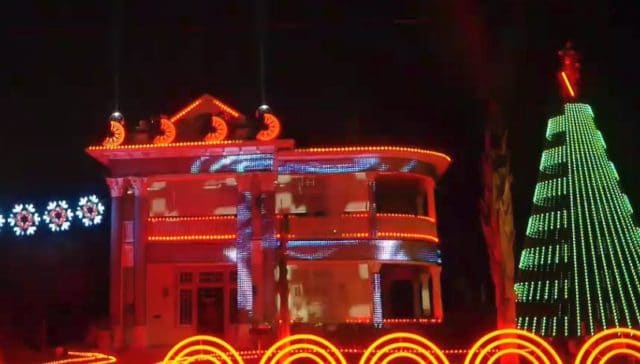 You can argue whether this is the best Star Wars light show of all time but it's certainly impressive no matter your view. You also might wonder just how anyone managed to perform such a feat as putting this all together for the holidays with such style and expertise, but the truth is that Matt Johnson is the owner of a company called Living Light Shows and this is what he does for a living. That makes a lot more sense doesn't it? The house in question isn't his own, though he did manage to create a living light show of his own residence with disastrous results in terms of how much traffic it caused. People were slowing down so often that there were about forty or more cars attempting to move down the block at a time, causing massive traffic jams. Matt had to take his own display down just so people could get to where they were going.
This house however was found by his wife when she was out jogging and as it offered more than enough space for people to drive and to congregate all at the same time the couple decided to ask the owners if they could put on a light show with their home. The owners were absolutely thrilled to be a part of this and about six weeks and 15,000 lights later, and a year's worth of programming, the effect was ready to roll. That seems like a lot of work for a single holiday effect but the idea of getting it all to work and successfully incorporating the remixed Imperial March, put together by an artist named Celldweller, was done to inspire the younger generation that have for a while now been demanding something other than the old, static light shows.
Let that sink in. A generation wants something more so someone devises a way to work harder, longer, and do more so that a generation of people can be satisfied for a single month or less. In other words for the short amount of entertainment people are willing to take over a year's worth of time to put all they have into doing something so that people can say "hooray" or "oooh" and "aww" for a few minutes. It's not the time of year to be cynical really and this light show is awesome and impressive but to the younger generation it's time to stop demanding and start doing. Christmas is a time of wonder but if you want some true wonder then start making the wonder.
Being a Star Wars fan and a lover of Christmas this is a treat to watch, but it's not expected on an annual basis. If someone wants to go to all the work and effort of doing such a thing that's awesome, but it shouldn't be expected as a rule. Those "static" and "boring" Christmas lights were what we as kids found amazing back in the day, and yet somewhere along the line it seems that we went wrong as parents and didn't see fit to instill that same awe in our kids if they want this kind of thing all the time. To the video game nation, enjoy the experiences you get, they're a privilege, not a right.
MUST SEE!! 2017 Star Wars Christmas Light Show

MUST SEE!! 2017 Star Wars Christmas Light Show. Fast-paced, High-Energy, Remix of Darth Vader's Imperial March. In honor of the highly anticipated movie, The Last Jedi. Created by Living Light Shows in San Antonio Texas. Star Wars Disney Star Wars Movies San Antonio, Texas

Posted by Living Light Shows on Tuesday, December 12, 2017