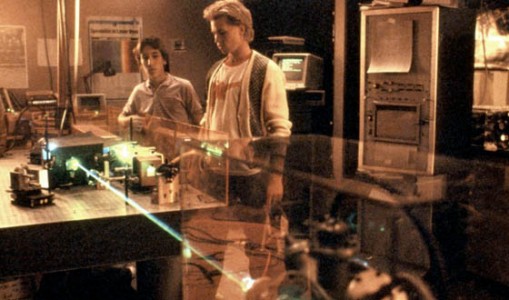 There's not much surprise that this song hit number one on the top one hundred in 1986. The track was one of their absolute best and most popular to date and it's been used in wide variety of ways. Something about simply grips people and keeps their attention in a way that's really hard to define but extremely easy to see. It's enjoyed a broad spectrum of usage since it was released and still is heard to this day on the radio, in TV, movies, and yes, even video games from time to time.
Here are some of the best uses.
5. Real Genius
There's nothing quite like the feeling of pulling one over on a superior and getting away with it, especially when it involves stopping something that's so diabolical in nature. What could have been used to target and destroy individuals from afar becomes one of the world's greatest pranks when a bunch of college students decide to turn their professor's house into a giant popcorn maker.
4. Aloha
Sometimes a life isn't lived until you realize what you have and not what you've lost. Gilcrest is a man that is so disillusioned with life that he's become a cynic with an armored shell around his heart. That begins to change though as he gets to know the young woman assigned to be his liaison and reconciles with his ex-girlfriend, finding peace by telling her that she needs to stay with her current husband as he finds that he too has fallen in love with the right person finally.
3. Jimmy Kimmel Live!
Very few things beat a live show when it comes to hearing the original song. Tears for Fears live and in person is something to see no matter that it's been years since the song first came out and the guys are obviously getting on in years. They can still put on one heck of a show and the fans absolutely love it. Live TV is perhaps one of the best venues for exposure at this point, aside from social media.
2. The Legend of Zelda
I did say they were in a video game or two didn't I? The Legend of Zelda seems like it might be one of the last games that might use this song but really it fits in quite well. Even if it's not the same vocalists handling the words it still works on a level that makes the game a little more special and enhances the song in a way that was not originally intended.
1. Everybody Wants to Rule the World
You just can't beat original music videos for the best presentation. A lot of us can probably remember back in the day when channels like MTV were still true to their programming and music videos were the thing to watch. Back then it was too much fun to see your favorite bands on the tube and to sing along with them whenever they came on. Now it's all on social media and considered "oldies". Oy, are those of us from the 80's and 90's really that old?
Tears for Fears is still popular and this song is still one of the best.
Save