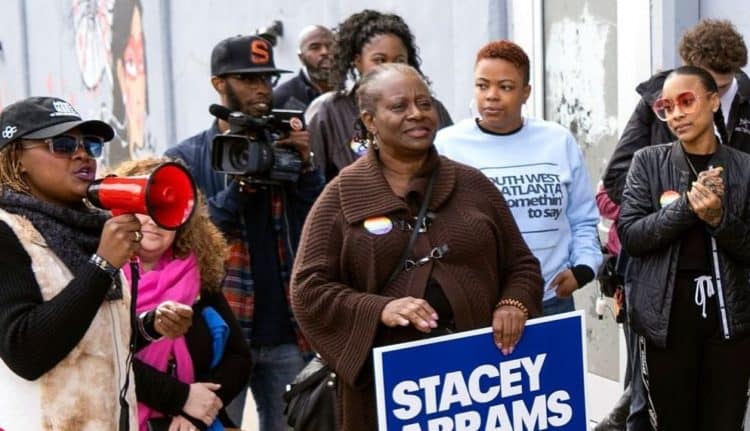 Finding Justice is a BET docuseries about the efforts of a wide range of people in African-American communities working to correct injustices. As such, it might interest people who are interested in learning more about not just important issues such as police brutality and voter suppression but also about how activists and other agents of change are mobilizing to bring about a better world. Here are 10 things that you may or may not have known about Finding Justice:
1. Produced By a Collaboration
Deadline has stated that Finding Justice is the product of a collaboration between Seven Bucks Productions and Leepson Bounds, which are headed up by Dwayne Johnson and Dany Garcia in one case as well as David Leepson in the other. Moreover, it is interesting to note that this is the first time that Seven Bucks Productions has teamed up with BET.
2. Dwayne Johnson Is an Executive Producer
Speaking of which, it is worth mentioning that Dwayne Johnson, Dany Garcia, and David Leepson are three of the executive producers for the docuseries. Most people should be familiar with Johnson to some extent, seeing as how he started out as a professional wrestler but has long since managed to make a very, very successful transition to a movie career. For proof, look no further than the fact that he gets to star in movies of note such as Moana, Jumanji: Welcome to the Jungle, and the Fast and Furious franchise, which is particularly impressive because he has had his flops, meaning that his movie career possesses incredible resiliency.
3. Dwayne Johnson's Promo Post Caused Some People to Respond in a Hostile Manner
Perhaps unsurprisingly, Ebony reveals that Dwayne Johnson's initial promo post for Finding Justice on Instagram provoked hostile responses from certain individuals. For those who are curious, the general gist of these comments ranged from accusations that Johnson was seeking to make himself more popular with liberals to claims that there was no such thing as social injustice and claims that Johnson was stirring up racial tensions in the United States. It seems safe to say that the people behind these hostile responses haven't been paying enough attention to Johnson's activities, seeing as how he hasn't exactly been shy about revealing that he has opinions on such political issues.
4. Has Pretty Positive Goals
With that said, it is important to note that the people behind Finding Justice have some pretty positive goals in mind for their project. First, they have stated that they want to inspire positive change in the United States and beyond, presumably by showing interested individuals examples of how people are already working to make the world a better place for everyone. Second, they have stated that they want to encourage healing in African-American communities, which will be a critical step in the recovery process.
5. Each Episode Has a Strong Focus
Each of the six episodes of Finding Justice has a strong focus. First, each one is centered around a single subject matter, which consists of a particular issue in a particular city. For example, there is one episode about cash bail in St. Louis. Likewise, there is another episode about the school to prison pipeline in Los Angeles. Each episode serves as a microcosm, thus making it that much easier for interested individuals to comprehend the systematic prejudices facing African-Americans.
6. Overall Focus on Mass Criminalization
With that said, there is a subject that extends to more than one of the episodes, which would be the subject of mass criminalization. There are a lot of people who will have come upon the subject of mass criminalization because of their awareness of mass incarceration, which wreaks havoc on African-American communities throughout the United States. However, it should be noted that mass incarceration is the product of mass criminalization, which can be described as a cultural attitude that a wide range of social problems should be solved by tossing people into prison rather than pursuing other solutions that can prove to be more helpful for both said individuals and their communities.
7. One of the Executive Producers Is dream hampton
Essence magazine interviewed dream hampton about Finding Justice because she is one of the executive producers for the series. With that said, it is interesting to note that hampton has taken on a number of roles such as a filmmaker, a journalist, and a cultural critic. In particular, a lot of people will have heard of her in recent times because she was the one who made Surviving R. Kelly, which has had a huge impact by reaching a huge number of people.
8. hampton Believes that Justice Must Be Created
The interview revealed a number of interesting opinions on hampton's part. For example, when she was asked about where justice can be found, she answered that it was something that people would have to create. Moreover, hampton stated that justice was something that different generations could innovate upon, which is interesting because it speaks of a concept that isn't perfectly understood all at once but instead has to be better comprehended a little bit at a time.
9. hampton Found It Interesting that None of the Interviewees Saw Themselves As Victims
One of the facts that hampton found interesting about the people who were interviewed for the docuseries was that while many of them had been victimized in one way or another, none of them identified as victims. In hampton's case, she attributed it to a natural sense of dignity that people are born with rather than bestowed with.
10. hampton Doesn't Think that There Is a Simple Answer to the Question of Seeking Change ASAP or Being Patient on the Matter
Seeking change as soon as possible versus seeking change at the right time is a debate that pops up in a lot of social movements. After all, social movements are fueled by serious issues that are affecting a lot of people, meaning that there is a very strong motivation for the participants to move sooner rather than later. However, the participants also want their efforts to be successful, meaning that in some cases, they need to build up support before moving forward. With that said, as hampton noted, the two aren't necessarily incompatible with one another because even if a social movement is engaged in a generational effort, its participants can still make a real impact now by focusing on smaller steps.