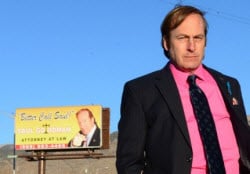 We've been following the saga of Vince Gilligan, Sony and AMC all hammering out a deal to get Better Call Saul on the air, and now? It's happening, it's really happening. They've just finalized an agreement that will bring the Breaking Bad spin-off to the network.
In the end, the show will be an hour long, not half an hour like some originally thought. And it will indeed be a prequel, meaning it takes place long before Saul ever meets Walter White or Jesse Pinkman. That means amazing things can happen like Mike being a recurring character on the show. And even though Saul hired Huell later on in the show, I'm hoping they can figure out a way to make him a character as well.
What will the show consist of? Well, we only have Gilligan's thoughts from a year ago:
"I like the idea of a lawyer show in which the main lawyer will do anything it takes to stay out of a court of law. He'll settle on the courthouse steps, whatever it takes to stay out of the courtroom. That would be fun – I would like that."
This should be fun, though there's no guarantee it will be as good as Breaking Bad. I'm worried that if they make it too procedural, it won't really have lasting appeal. Breaking Bad is great for many reasons, but one of them is its long, intricate plots. Not saying Better Call Saul needs to be THAT intense, but I don't think a "goofy case of the week" is the best way to do things either.
We shall see, but this is good news.