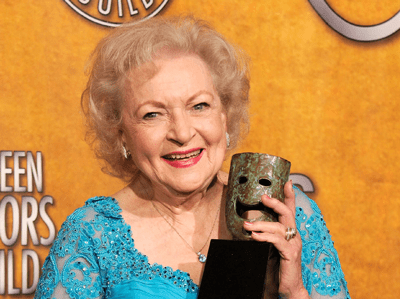 If today's Screen Actors' Guild Awards announcement is any indication, the Betty White resurgence of the last couple of years is still as alive and as vibrant as she is, with no signs of slowing down anytime soon.
On the heels of her 2010 SAG Lifetime Achievement award, White's performance on the TVLand sitcom Hot in Cleveland has helped garner herself a SAG nomination in, not one but, TWO categories: Outstanding Female Performance in a Comedy series and, in somewhat of a surprise, Outstanding Performance by an Ensemble in a Comedy Series for the entire Hot in Cleveland cast.
These nominations are set to make for a very interesting race, particularly in the suddenly "eyes-on" Comedy Actress category as the still-Golden Girl attempts to break Tina Fey's (30Rock) three year winning streak, as well as face off against recent Emmy winners Jane Lynch (Glee) and Edie Falco (Nurse Jackie) in the same category. White herself is also coming off of an Emmy win for Guest Actress in a Comedy Series.
Interesting race, indeed. It almost makes me feel a little sorry for the also nominated Sophia Vergara (Modern Family) at this point.
Will Fey be able to sustain her reign as Comedy Queen, or will White's seemingly endless magic carpet ride take her sweeping across the SAG stage twice again, especially considering she's largely a supporting character on her show?
Personally, I'm hoping for the latter, because then perhaps we'll get another classic speech like this: