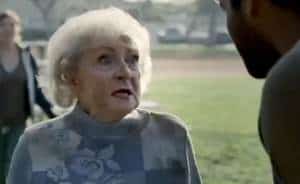 Some could say that this news has been 88 years in the making. It has been announced that Betty White will host Saturday Night Live's Mother's Day Special on May 8, along with Saturday Night alumns Tina Fey, Molly Shannon, Amy Poehler, Maya Rudolph, Ana Gasteyer and Rachel Dratch. But wait, is Betty White even a mom? The answer is no, White has no children of her own, only a golden retriever, but SNL executive producer Lorne Michaels says she's the perfect Mother's Day host because "she's the mother of us all in comedy, so it will be a celebration of Betty White."
Although it marks White's first ever hosting gig on the show, and puts her as the oldest host ever (she's 88), it's not exactly Lorne Michael's fault. He told USA Today that he was turned down by White three times in the past and has always wanted her on the show.
The recent explosion of interest in White hosting SNL came after a hilarious Super Bowl commercial for Snickers in which Betty White was seen tackled while playing football. You can check the commercial out for yourself below.
After the commercial aired a Facebook campaign was launched to get White on the show. Michaels was all for the interest and publicity, ""It isn't something we would have said no to," he says. "It was the outpouring of affection from fans, and we feel the same way."
So why has Betty White refused the hosting gig in the past, and what made her change her mind this time?
"It's so New York, and I'm not New York at all," she says. "But my agent said he'd divorce me if I didn't do it, and I love my agent."
You can watch the always hilarious Betty White on the May 8 episode of Saturday Night Live. Don't forget to watch or set your Tivos!
Source: USAToday