We all have traditions. They can take the form of holiday get-togethers, events you and your friends go to annually, or a set date where everyone comes over to eat pizza. While the final one may not be shared by a lot of people, this week, Sheldon declares that this tradition shouldn't be broken. With Leonard now dating Priya, Sheldon is forced to change his nightly traditions but, he does so only to his liking. Does a new social group for Sheldon mean higher marks for TBBT? Grab a bowl of chili and read on to find out.
I really enjoyed the story this week between Sheldon and his friends. While the episode started out normal with Leonard and Sheldon arguing about switching up their night for a change, it took a nice turn when Sheldon found out Leonard is the nucleus of all the friends and then subsequently hosted his own get-together with a random group of friends. Seeing Stuart, Zack, and Barry back on the show made for some really great moments.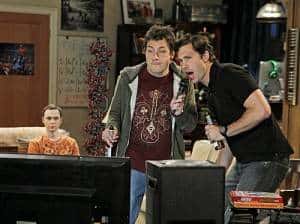 With all three men being distinctively different from Sheldon, I imagined a slightly amplified situation from Sheldon and his normal friends. Boy was I off, but in a good way. When Sheldon interjected with brainy knowledge during Zack's story it showed us that, only Leonard, Raj, and Howard seem to be the only ones who can sit through these stories. Luckily, Sheldon realizes he misses his friends and goes back to hanging out with them. It was nice to see that we didn't have to put up with Sheldon's other 'friends'for long as, even though they make for some great humor, I enjoy the banter between Sheldon and the main friend group more.
Sadly, that was not the only story this week. We were once again thrust into a Penny story with Bernadette and Amy trying to take her mind off of Leonard and Priya. While it would be nice every once and a while to see Penny struggle with Leonard dating, it seems that the writers wish to make this happen every week, and frankly it is starting to become a bore. Even when it seems Penny won't even be thinking about Leonard, the writers throw in Amy and Bernadette to make sure Penny is broken down into a girl ready to go get some. Just once I wish I could see a story with Penny being a stronger woman.
One last thing I would like to touch on is the growing humor of sexual jokes again on TBBT. While this week there wasn't quite as many of them as we usually see, it seems that the writers have just become teenage boys who find masturbation to be the greatest form of humor. I don't mind these jokes every now and again as sometimes the jokes are quite humorous but, the writers are beginning to rely heavily on sexual innuendos and clever ways to refer to masturbation. The writers just really need to grow up once and a while and give us back some of the great geeky humor we fell in love with.
This week wasn't the greatest episode of TBBT this season and even with the Penny side story, it wasn't the worst. It seems that TBBT is starting to get comfortable in the rut they have been in all season. My only wish is that the other episodes this season find a way out of it, and fast. B