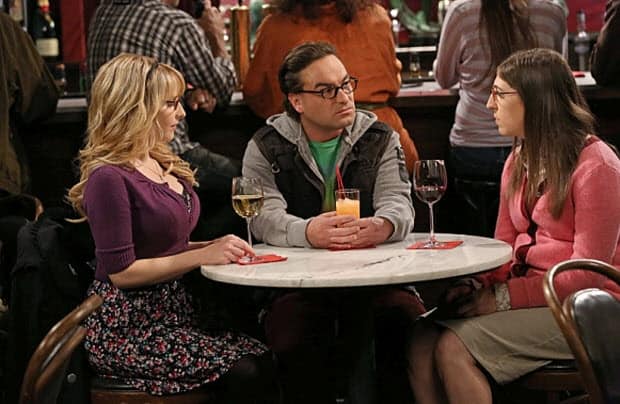 by Brett Denney
After being bazinga'd last week with no new episode of The Big Bang Theory, everything was back to normal this week as the show starts off reminding us that Sheldon is still looking for a new area of focus since he is no longer studying String Theory. He enlists the help of Leonard on what that focus should actually be from a list he has on a whiteboard. Leonard seems impressed that Sheldon would ask his opinion, but after Leonard's suggestion Sheldon takes that as the sign to erase it, as in to say whatever Leonard picks I will get rid of until I am left with only one.
Penny's movie is still being shot as she is telling of her day to Leonard. He is trying to be the good boyfriend and be supportive and encouraging but with a low budget film with hardly any storyline, it is difficult to do.
Penny then suggests to Sheldon that he is trying too hard to find his next project and to take his mind off of it for a while that they should bring back "Anything Can Happen Thursdays". They all 3 agree that it was a good idea but then quickly remember why this event kind of faded in the past…they couldn't come up with anything to do. Some of Sheldon's first ideas are nothing different from what they do any regular day, because we all know that Sheldon and change does not mix. They decided to go for a walk in hopes that they might come across a new restaurant. They know what Raj and Howard are doing but Leonard wonders if they should ask Bernadette and Amy to join them. Penny says that Bernadette is working late and that Amy is sick, so it ends up just being the 3 of them on the Thursday adventure.
We find Raj and Howard hanging out at Howard's ailing mother's house. Raj wants to watch a gory movie which surprises Howard. Turns out Raj's girlfriend Emily wants to watch it the next day and Raj is hoping that if he watches it with Howard then he can act cool while watching it with Emily the next day. Sounds like a good enough plan.
As the group of 3 is walking down the sidewalk Sheldon just knows that the "Anything Can Happen Thursday" will make for an "It Won't Stop Coming Out Friday". In search of their random restaurant hunt, they happen upon Bernadette and Amy at a bar drinking wine and looking to be having a good time. They seem shocked and a bit hurt that they were lied to by their friends. In classic Sheldon fashion, Sheldon knocks on the bar's window 3 times following each knock with an "Amy and Bernadette", then he asks why they lied to them. Like many of Sheldon's lines in the past, I laughed out loud and had to rewind to hear the first line of the next scene.
Back to Raj and Howard getting ready to watch the horror movie, Raj takes the dvd out of its protective sleeve and is disgusted to find a lone, human hair clinging to the disc. Howard sarcastically says how well Raj is going to do watching this movie.
The group of 3 confront the 2 ladies as to why they lied to them and Amy explains that she needed time away from Sheldon obsessing over what to do next after string theory and Amy explains to Penny that they just wanted a break from hearing how unhappy the movie is making her. Penny is a bit hurt over hearing this and takes Sheldon and decides those 2 will take a break from the new group of 3 and Sheldon can tell Penny all about what his new study should be on and Penny will let Sheldon listen to her complain about the movie because that's what friends do. It didn't take Penny long though to tell Sheldon to shut up as he started to say that he leaning toward the area of dark matter.
Penny and Sheldon end up at a restaurant that serves Chinese noodles, Korean barbecue and tacos on the same plate which is not easy for Sheldon to handle. Once again Penny tries to have a normal conversation with Sheldon in asking if she does complain too much about the movie. He adamantly says no which gets a too quick reassurance reaction from Penny before Sheldon continues on with that much of what she says sounds like the grownup teacher on the Peanuts cartoons with the occasional "clothes" word that he can make out.
The horror movie is not being dealt with well by Raj or Howard for that matter. Raj wishes he could just date a girl that likes The Sound Of Music but Howard informs him that he is the girl in a relationship that likes The Sound Of Music. With Penny's feelings hurt she wants a bit of get evenness by calling Howard and telling him that Bernadette lied to him. This does not have the effect on him as penny might think, because he knows that Bernadette "owes" him some catholic school girl marriage fun now.
Amy confides in Leonard that she is a bit jealous of Penny and Sheldon's relationship in the sense that she wishes her and Sheldon were that close which ties in with Penny and Sheldon ending up at a Psychic reader and the psychic informs Sheldon that things in his life will fall into place, meaning his next field of study, if he commits to his relationship with Amy. That struck a nerve with Sheldon in which he used the word malarkey to describe what he thought of her assessment. Keep it clean Sheldon!
Raj tries to be honest with Emily and tell her that he doesn't like the horror movies until she tells him that these types of movies turn her on to which Raj hits play on the remote.
A catholic school girl outfit wearing Amy shows up at Sheldon's door to make it up to him for her lie. This type of innuendo is totally missed by Sheldon, once again and he is hoping that she brought Gravity on Blu-Ray.
Once again I was not disappointed in a TBBT episode. We've all said our little white lies to our friends to keep from hurting their feelings and sometimes we get away with it and sometimes we don't. I hope our friends will have forgiven each other by the next episode.
There are only 2 more episodes left in season 7 and I expect them to be great as always.
"If I wanted to waste my time on nonsense I would follow Leonard on Instagram" – Sheldon
[Photo via CBS]