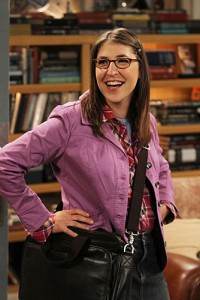 We all remember Mayim Bialik from the family show Blossom, but she's appeared in a few shows since then, including Curb Your Enthusiasm and The Secret Life of the American Teenager. She also appeared in The Big Bang Theory at the end of last season as Sheldon's girlfriend. Since the show returned this season, Bialik's character (Amy), has been a recurring member of the cast, even when she and Sheldon broke up.
Now, Deadline reports that Bialik has been promoted to a series regular. This comes on the heals of the recent promotion of another female cast member – Melissa Rauch – to series regular. However, the promotions for Bialik and Rauch are only for this season and they're not obligated to appear in every single episode. Considering the show has four main male stars, Bialik's promotion provides a bit more balance for the different sexes to be represented on the show.
A new episode of The Big Bang Theory will be airing tomorrow night (November 18) on CBS. Bialik will not be appearing in that episode. After that, it appears that both the November 25 and December 2 episodes of The Big Bang Theory will be reruns.