In anticipation of the return of The Big Bang Theory tonight, I marathoned through season three when the DVD was released last week. There really is no other show on television quite like it, and while you certainly do not need to be a geek to enjoy this series…The Big Bang Theory is actually quite an educational form of entertainment.
At Comic-Con in July, I had the opportunity to speak with the cast and crew after their panel at a press roundtable. To no one's surprise, everyone involved behind the scenes of The Big Bang Theory is enthusiastic about their show, as well as very appreciative of the fans.
Co-executive producers and writers Lee Aronsohn and Steve Molaro confirmed that Mayim Bialik will appear in the first few episodes as Sheldon's potential love interest, as evidenced in the photo above. Recently crowned Emmy winner (for Best Actor in a Comedy) Jim Parsons offered his perspective about a possible romance for his character. 'I was really surprised and excited. I love what the writers do. I think that they have such a thoughtful execution; they don't flippantly through out things to see what sticks to the wall. They give it great thought and they're brave. I didn't think we'd ever see Sheldon in a…he's barely in a friendship! But I'm very excited to see what twisty road they take have these two communicate with each other.'
As for the future of Leonard and Penny, Kaley Cuoco believes that 'it's going to be a long road. Aronsohn and Molaro further elaborated, 'Leonard and Penny are on hiatus…but not necessarily to Leonard. He's not over it, but the relationship itself is going to cool it for a while.'
One of my favorite aspects of The Big Bang Theory is the surprisingly sweet and odd friendship between Sheldon and Penny. Johnny Galecki, who plays Sheldon's roommate Leonard, noted that his character 'has come close to punching Sheldon out.'He pointed to Cuoco and added, 'So have you.'Cuoco concurred with Galecki about Sheldon, 'He's frustrating. That's what makes the character so hysterical. But then he's so sweet, and he hugs you, and we love him.'
When asked about the show's big move to Thursday nights, Cuoco was nonchalant. 'Friends was one of my favorite shows and that was their time slot for years, so I think it's awesome.'Galecki is on board because 'when I was a kid, Thursday night was Cosby and Family Ties, and those shows governed when my family ate dinner. Thursday night was family TV night.'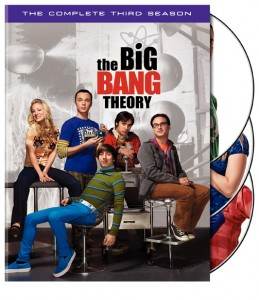 Season four of The Big Bang Theory premieres tonight on CBS at 8/7c. If you're looking to catch up or start your holiday shopping early, season three is now available on Blu-ray and DVD.
[Follow all of Jo's television adventures on Twitter @jopinionated]