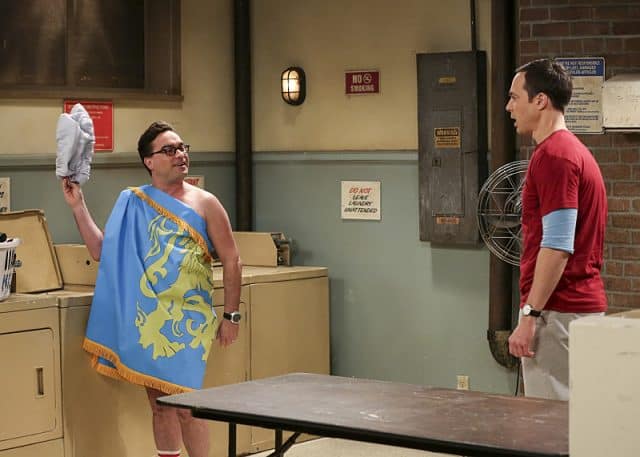 So many clues in The Big Bang Theory have indicated that Leonard and Sheldon would have an eventual breakup akin to divorce, and those rumors proved true after this episode. They divided up their belongings, many of which they have gone halfsies on, and the Leonard and Sheldon as roommates era has officially come to a close, which was necessary but still sobering for such a long running series.
This week on The Big Bang Theory: Since Sheldon and Amy are going to stay in Penny's apartment long-term, they decide to return some of Penny's belongings, and bring some of Sheldon's back over. Leonard and Sheldon have a hard time dividing up their belongings, which leads to a fight. Meanwhile, Stuart needs a place to stay, so Howard and Bernadette let him move back into their house on a trial basis, since he has been so helpful. Raj becomes jealous of Stuart, and the two face off in a territorial battle for attention. Christopher Lloyd guest stars.
This was a divorce 10 years in the making, so reaching the boiling point was bound to be funny. And it was. Jim Parsons and Johnny Galecki thrived in an environment in which making each other's characters miserable was the top priority. Particularly funny was Leonard's turn having "fun with flags" (pictured above), but all of the little physical bits and moments are the best parts of the show.
This episode was also the first time in a long time that I found Raj and Stuart being sad-sacks funny. It's hard for me to find sad-sacks funny at all, because I feel like it lends credence to making fun of people who have real issues with social anxiety, depression, or making friends. Probably my least favorite part of Parks & Recreation was the constant berating of Jerry. Stuart sometimes is deserving of the laughs for being weird and creepy, and Raj is decidedly less so. But, combining the two of them in their weird neediness was a thing of beauty! If this means we'll get more Stuart on the show, then I am all for it.
Here are a few other thoughts/funny moments:
"I don't need anything around that I can stab myself with"
The Mr. Spock Cuckoo Clock. I wish that was a thing.
"I know when I'm not wanted!" "….I don't think you do but ok!"
I've never understood why Raj and Stuart don't live together. Is Raj too Ross for this show?
Wonderful guest appearance by the ever-hilarious Christopher Lloyd. Theodore put the other sad-sacks on this show to shame!
This wasn't the funniest episode of The Big Bang Theory that I've ever seen, but it elicited plenty of laughs from me. It was satisfying to watch the characters grow and continue past the time that Leonard and Sheldon have been roommates, and still stay in the exact same time in which Raj and Stuart are both creepy weirdos. Regardless of the intention behind all of it, I enjoyed the episode.
What did you guys think? Did you enjoy the episode? Let us know!
The Big Bang Theory airs Thursdays at 8/7c on CBS
The Big Bang Theory Season 10 Episode 10 Review: "The Property Division Collision"
Summary
Leonard and Sheldon divide up their belongings, and Stuart needs in a new place to live, in this week's funny episode of The Big Bang Theory.