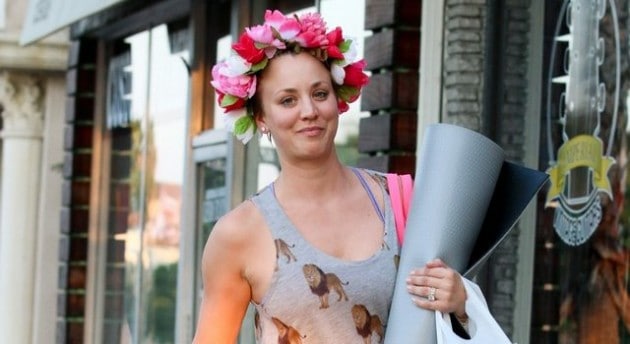 Is it the $1 Million an episode that's got Big Bang Theory star Kaley Cuoco in such a good mood?  Something tells us that this may very well be the case.  The recently raised Penny has got a lot to smile about these days as Big Bang gets set to resume and Cuoco gets set to earn big bucks.  Question is, would Penny be caught in a get up like that after getting out of Yoga class in LA?
I'm going to go with yes.  Cool tank top with lions on it and wearing a flower hat?  It's almost as if Cuoco knew that the paparazzi would be greeting her outside of her class.  But we have to admit that we kind of admire Cuoco.  Clearly she goes out of her way to give the photogs something to shoot and us writers something to write about.
Well, that is until Big Bang Theory resumes and we have to start analyzing Penny and Leonard again.  Speaking of which, is anyone else ready for Penny to quit acting?  That's what all set up for this upcoming season.  How will it affect these two?  Word is Penny will be taking a job as a pharmaceutical rep and bringing in some decent bucks.  Clearly this is going to have some serious relationship dynamic effects for the odd pair.  Personally I think it's a good direction for the show to take.
In the meantime, keep up the Yoga Kaley!
Image via Splashnews