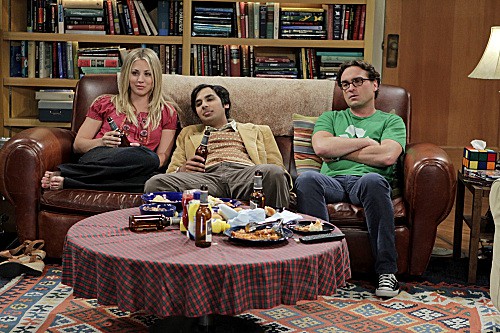 The CBS comedy The Big Bang Theory returns for its sixth season in late September, but the network has already released a peek at the season premiere in the form of photos.
Wolowitz has achieved his goal and is finally up in space, but he'll find that he needs to go further than the outer reaches of the solar system to escape his women problems when he gets caught in the middle of an argument between Bernadette and his mother.    Meanwhile, back on Earth, Raj starts to realize how lonely he is when all of his friends are going on dates and he's left back at home, prompting him to turn being a third wheel into an art form.  Use the arrows above to browse through photos from the episode.
Don't miss the season 6 premiere of The Big Bang Theory on Thursday, September 27 at 8:00 p.m. ET/PT on CBS.  And make sure to adjust your DVRs, because the premiere will run until 8:31 p.m.!