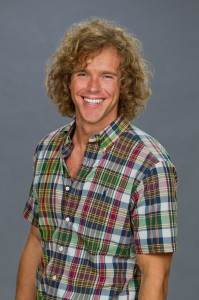 Talk about a last-minute save… Just as I was ferociously yawning my way through Big Brother tonight, the last few minute of the episode regained my interest as it seemed that the house, namely Wil and Frank, was finally using their God-given common sense for once. Then the Veto meeting occurred and my theory went up in smoke just as fast as it was formed.
Before I delve into the meat of the hour, let me go ahead and get the Zingbot out the way, because he seems to be a hit with a lot of people… except me.
I don't know what it is, but I've always found the Zingbot to be extremely boring and not really a gutbuster of a comedian. The Danielle comment was probably the funniest out of his latest set of insults, but overall? Blech. I know I'm in the minority on that sentiment, but the Zingbot just didn't do it for me tonight. Sorry… but not really.
But let's get back to our regularly scheduled programming, which was the slaughter of the Big Brother house courtesy of Frank and Mike Boogie. Even though the two of them agreed to send Wil packing, Frank still had his mind-set on backdooring Dan, much to Mike Boogie's dismay. The great thing that came out of this scenario was Frank using his brain for once to actually argue with Mike on how keeping Dan in the house would only benefit Boogie and not himself, because Dan wants to replace Frank as Mike's sidekick in Chilltown 2.0, which is basically Truth 2.0. The fact that Frank finally took a keen eye to Mike's 'possible' side deals spoke volumes, because the seed of doubt was finally planted between Chilltown 2.0 and all it takes is a smart player to nurture it to a Tree of Deceit. However, the seed has to take root first, which I'm praying it eventually will.
Meanwhile, Jenn, Wil, and Ashley concluded that for Frank to have all the power this week (Frank also won the POV), why on earth would he want to send Joe or Wil home when he can actually put the fear of God in everyone by sending Dan packing instead? It would be a waste of an HOH, which in the grand scheme of things sounds about right. While their analysis of the situation was sound, what killed me was how they were only 'suspecting' that something big was going on in the house unbeknownst to them involving the other players. Hello?! It's a freaking alliance!!! Maybe Zingbot should have directed his comment about Ashley to the entire house, because none of these idiots are bright enough to light a candle to the darkness rapidly surrounding them.
At least Wil knows not to trust Mike, which was a plus, but does it really matter at this point? Mike has Wil where he wants him now and unless Wil comes up with a Hail Mary between now and tomorrow night, I'm betting money that we will see loud mouth Joe dodging the ax during the eviction.
What else did you guys like about tonight's episode of Big Brother? What are some of your all time favorite Zingbot putdowns from the past and tonight?
Photo Credit: CBS