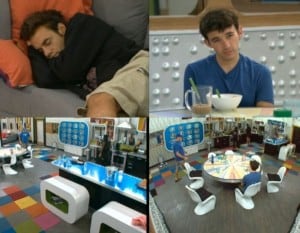 A mysterious order from Big Brother last night has revived a conspiracy-theory that pops up at least once every season: the show is rigged!  However, we now know what it was REALLY all about. Last night as Joe and Ian were discussing nominations, Big Brother came over the intercom and told them they were forbidden from discussing nominations, followed by a few fishbowl sequences. Thanks to faithful feed addict Jennifer, we now know what this was all about.  It turns out that Showtime's Big Brother after dark was extended by an hour last night, and this is why Big Brother didn't want the Hamsters talking about who would or would not be nominated. Still weird, but it mates so I'll take it.
Meanwhile, everyone is awake in the house and the Nomination ceremony will take place at some point today and Ian has expressed his choices for nomination.  Unless he has a change of heart, he will be putting Frank and Jenn up for nomination.  If those nominations stick, Frank will most definitely go home. If either of them come down, expect Dan to take his place.  Remember, there will be a double elimination next week meaning there will be a lightening round that will no doubt be emotionally charged based on the outcome of these nominations.
The Hamsters are having trouble making sense of Ian's choices, but it is pretty clear from here:  Ian is legitimately out for vengeance and will Nominate Jenn for her role in deceiving him this week.  Obviously Ian sees Dan's actions as self preservation.  No matter how you slice it, his decisions are faulty in that they are emotionally bound.  He has no idea that the entire house has decided Ian is not trustworthy and needs to be put up for nomination sooner, rather than later.  Ian could very easily wind up on the nominations next to a place-holder like Joe on next week's second elimination.