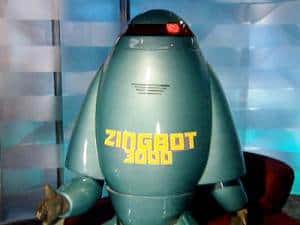 Admit it, Big Brother aficionados, you miss the Zingbot 3000 already. Yes, yes, he (she?) appeared mere weeks ago, but his one-liners and insults were so funnily potent ("Lane, they say everything is big in Texas – except your brain. Zing!"), that the Zingbot became one of the best parts of this season's Big Brother (certainly better than the Saboteur!). Well, you may have your chance to see the Zingbot again. Word came down from CBS today that Big Brother will return next summer for its thirteenth season of "watch the human hamsters" craziness.
Big Brother, defying a general television trend, actually saw an increase in ratings over last season (an average of 7.64 million viewers — a 5% increase over 2009's edition), and a 10% bump in adults aged 18-39, a core demographic for television networks. CBS gets three hours a week out of the show for approximately twelve weeks every summer, so with a rather decent summer ratings number, and an increase in those ratings overall and "in the demo," renewal comes as no surprise. Of course, host Julie Chen will return as well. The only questions that remains is, will the Zingbot be improved to the Zingbot 4000 by next summer? One can only hope.
Big Brother's two-hour Season 12 finale is tonight, Wednesday, September 15th at 9:00pm, preceded by the season premiere of Survivor: Nicaragua (catch my preview of Survivor here).
(Hat Tip: HitFix)