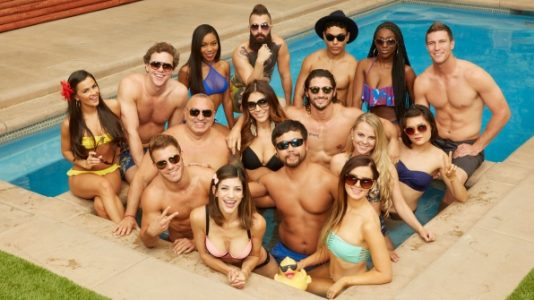 There's just something about Big Brother that draws you in every summer and this year is no different. It could be the cast of eccentric, crazy, and cutthroat houseguests or the numerous twists that they throw at us each year, but no matter the reason, Big Brother manages to hook a solid audience each year. In the premiere episodes of its eighteenth season, there's already no doubt that this summer will be another highly entertaining one, with twists already being announced and houseguests already forming plans and alliances to win the half million dollars. The question is, who has what it takes to make it three months in the house, playing a game solid enough to not only make it until the end, but also win the votes of their fellow houseguests when all is said and done? At this stage in the game, it's anyone's to win yet already some houseguests are making key mistakes.
After the normal introductions were made and houseguests started to get to know each other, Julie revealed the first big twist of the season: four former houseguests from seasons past would be joining them and competing for the half million. We didn't have to wait long to find out who those four were as Nicole, James, Da'Vonne, and Frank all popped out from their hiding places, revealing themselves to the house. Immediately a group of newbies formed, consisting of Paul, Jozea, and Zakiyah, all of whom were deadset on getting these veterans out before taking on the other newbies. We've seen this plan formed in other seasons that mixed newbies with veterans and it never once has worked out. Unsurprisingly then, it doesn't appear to be working so far this season either. But this time, it's mostly due to some really bad decision by the newbies.
To be fair, there was another twist thrown at them right away that is majorly affecting how they are playing the game, at least for the first few weeks. Julie announced that, like in season eleven, the houseguests would be playing in teams of four with one veteran on each team, to make things fair. To spice things up more, in the first days of the season, they'd be competing in four competitions and one player would be evicted. The team who won the first competition would guarantee themselves safety from this first eviction. The remaining three would move onto the next competition and whoever won would also guarantee safety. WIth two teams left, the loser of the next competition would be left to have each team member compete individually in the final competition and whoever finished last would be sent home immediately. The catch: the remaining three members of the team would pick among themselves who would become first Head of Household of the season.
Obviously, this twist shook things up in the house, as houseguests stepped up and began proving themselves in competitions. Or, in some cases, not proving themselves. It looks like as of now, James has the strongest team with Frank's not far behind him. For Da'Vonne, who unknowingly picked the trio of Paul, Jozea, and Zakiyah on her team, things aren't going as smoothly. Paul is a loud guy who wants to take charge and that hurt his team in the first competitions. Not only that, but these three only seem to care about getting the veterans out. They'll be nice to Da'Vonne to her face but the second they can turn on her, they won't hesitate to.
Luckily for them, there was one team that struggled even more to pull it together and that was Nicole's team. They drew the oldest houseguest on their team and while he was the one who pointed out their error in the last competition, it was overall Glenn who hurt them and landed them in last place. Nicole and Glenn, along with other team members Corey and Tiffany, had to face off against each other to see who would be sent home first. It came down to a video replay to determine who finished last, but ultimately it was Glenn who we said goodbye to. Overall, this will help his team going forward but it was still sad to see him go.
And unfortunately for the trio who want the veterans gone, Corey and Tiffany were more than willing to give the first HoH to Nicole, pretty much solidifying all the veterans safety this week. It was at this point that the gameplay of the newbies started going downhill, as first Victor threw Jozea under the bus to Nicole by admitting that he wants the veterans out and then Jozea himself started boasting about how he is the 'messiah' of the newbies to Da'Vonne. This information gave Nicole the ammunition she needed to put him on the block as one of her nominees.
As for the other nominee, she decided to take a risk and put up Paulie, the brother of former houseguest Cody, who seems much more interested in working with the veterans than some of the other newbies. With the hopes that he'll win veto and guarantee Jozea's eviction, she decided to nominate him alongside her target. Perhaps not the best move at this stage in the game, since Jozea has a big group of buddies in the newbies and a loss in the POV for Paulie could easily see him going home. The last thing the veterans should be doing right now is risking their own numbers, since they are far outnumbered by newbies at the moment.
The next week in the house will determine whether this plan will indeed backfire on Nicole and the other veterans, who all seem set on working with each other. Will they manage to get more newbies on their side or will Paul, Jozea, and their group have the numbers they need to control the game? It's a setup for a season that we've seen in the past, essentially combining season eleven's team scenario with season thirteen and fourteen's idea of veterans mixing with newbies. But with a different set of houseguests and different personalities, things are certain to play out differently, keeping the game interesting. We've already seen quite a few strong competitors and strong personalities this season, which is pretty much a recipe for an entertaining season.
Summary
In the premiere episodes of season eighteen, Big Brother upheld their motto of 'expect the unexpected.'