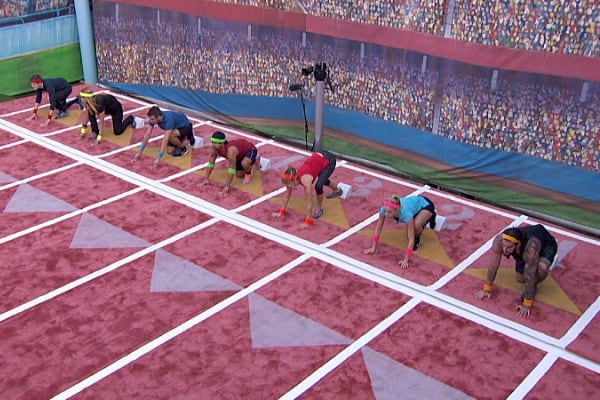 Sunday night's episode of Big Brother crowned yet another HOH, leaving those in power to make a very difficult decision. In a competition that required the houseguests to race against each other once the screen in front of them read "Ready, Set, Go," it was Austin who took home the win. Even during the competition, however, he wasn't entirely sure if he wanted to win, seeing as it would put him in a tough spot. The promise of safety for not only him but the twins as well was too tempting, though, and in the end, he didn't throw the competition. While a week of safety makes some aspects of the game easier, it makes others tougher. With the HOH win comes the responsibility of nominating two houseguests, and for Austin, this was one of the biggest decisions he's had to face so far in the game.
Prior to the HOH competition, Austin and the twins had made a deal with James and Meg that if any of them won, they wouldn't nominate any of the others. Both sides of the house saw the benefits of working together and taking out some of the more expendable players. Unable to nominate either of those two because he wanted to gain their trust and stick to his word and unwilling to nominate the twins, this left Austin with only a few options. He could nominate any combination of Steve, Johnny Mac, and Vanessa. Him and the twins are in a great spot in the house, in that they are aligned with every single player in the house and people need them as numbers right now. But this did make the nomination decision a tricky one.
Right now, Vanessa is clearly gunning after Johnny Mac and Johnny Mac is clearly gunning after Vanessa. Both are friends with Steve, but in the end his loyalties would probably lie with Johnny. At the same time, Steve (along with the rest of the house) has pretty much given up all hope of ever trusting Vanessa again. Because of all this, Vanessa and Steve were both incredibly nervous about the prospect of going on the block next to Johnny Mac. Steve can't trust that he'd have Vanessa's vote if it came down to it and Vanessa can't trust that she'd have Steve's vote. See the problem here?
Interestingly enough, both Steve and Vanessa are in an alliance with Austin and the twins called the Scamper Squad. When the group met to go over strategy, it became clear that Austin was going to have to nominate one very unwilling alliance member. For once, Vanessa's paranoia was not misplaced as she realized that if she were to be on the block come eviction night, she would almost assuredly be evicted. On top of that, even her alliance is starting to think taking her out would be the smart move. Steve would stand a chance against Johnny Mac on the block but his safety would in no way be guaranteed.
For Austin, the decision came down to doing what's best for his game and for the twins. Leaving a bigger target like Vanessa in the house is good for them. Essentially, every week she is in the house is another week of safety for them. They can also be sure that she won't be immediately coming after them if she were to win HOH. While they can also trust Steve not to come after them, they also have nothing to lose by putting him up. His only real ally in the house is Johnny Mac and putting those two up wouldn't cause very much drama in the house. That's pretty much all you can ask for from an HOH. If Johnny were to stay, he'd still be going after Vanessa and if Steve were to stay, he'd still want to work with them, knowing that he was just a pawn.
It took a lot of thought and some long conversations for Austin and the twins to come to the decision to put up Steve and Johnny Mac but in the end, it was absolutely the right decision. Everyone may want to see Vanessa go on a personal level but game wise, keeping her off the block, at least for now, was smart. Now all we can do is hope that Johnny can take home another Veto, leaving the door open for Austin to put up and eliminate Vanessa once and for all. As we know on Big Brother, though, you should always expect the unexpected.
[Photo via CBS]