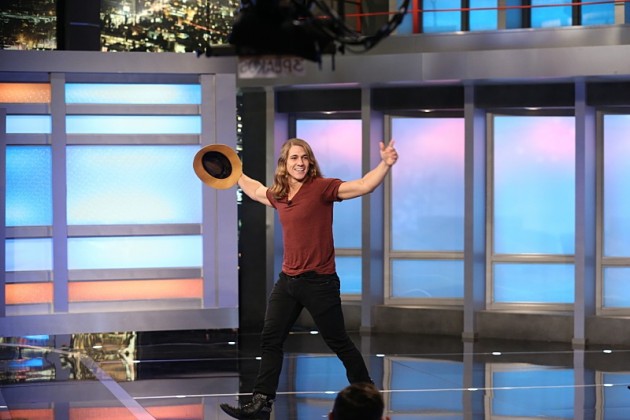 Last night's episode of Big Brother marked the first live eviction of the season, leaving one houseguest in that dreaded position of being the first person sent home. Throughout a tumultuous first week, there was one constant that kept an unstable alliance united: their desire to send Jace home. As suspected though, Jace didn't go down without a fight, as he rallied to try to get the votes he needed to stay in the game. Big Brother is a game where things can change at any moment, but did Jace do enough to convince the others to send Jackie home over him?
Successful or not, Jace definitely did everything he could to save himself. He started by confronting James, the HOH who he thought he was in an alliance with. It was clear that the renomination completely blindsided Jace, as he had put his trust in the side of the house that he should never have trusted. It didn't take long for him to realize that it was mostly James and Audrey who wanted him out, and after getting a less than sincere apology from James for backstabbing him, Jace went to Audrey.
On Wednesday night, we saw how awful Audrey is at gameplay, and last night, that was solidified. When Jace first sat down to chat with her, Audrey tried to claim that she had nothing to do with the backdoor plan and didn't even know he was going up. It became clear that he wasn't buying her story so she decided to switch tactics, later telling him that everyone was in on the plan (also not true). There is no logic to the game Audrey is playing, and she just keeps digging herself deeper into a hole. At this point, her alliance doesn't really trust her, and the other houseguests certainly don't either. Every time she tries to do something 'strategic,' it comes across as totally obvious. People are calling her on her lies left and right, and at this point, she'd be better off keeping quiet and laying low for a while if she wants to continue on in the game.
Despite his best efforts, Jace was still sent home with an almost unanimous vote, save for Audrey's vote to send Jackie home. It's likely she thinks that she'll be able to blame this vote on someone else to take the target off her back. Like everything else she's done, though, the houseguests are likely to deduce that it was her, and this might just be the last straw for her. It took Jace all of one minute outside of the house to figure it out himself.
With Jace gone, it was time for yet another HOH competition, as well as the introduction of this week's Big Brother takeover. Kathy Griffin will be making phone calls to the house throughout the week, and the houseguest to answer the seventh call will be allowed to pick three houseguests that won't get to vote on eviction night next week. This shouldn't have a huge effect on the house if the vote is unanimous like it was this week. However, with the house seemingly splitting in two right now, it could determine who is sent home.
In the second HOH competition of the season, the houseguests had to use their brains to put together a puzzle. Unlike last week, when two men won, it was the ladies who took the HOH title this week. Becky, someone who has done very little in the game so far, content to lay low, will now by making waves as one of the HOHs. The other will be Shelli, who has made it known that despite her initial alliance with them, she isn't a big fan of Da'Vonne and Audrey. She may chose to play it safe this week and nominate who the house wants, or she might make a big move and get one of them out. Whatever they do with their HOH, these two houseguests will have to actually start playing the game. I'm excited to see what they do now that they can no longer sit on the sidelines.
[Photo credit: Monty Brinton/CBS]