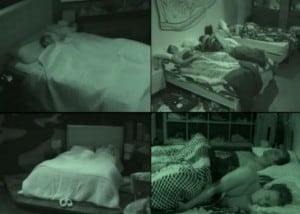 Predictably, Britney was evicted from the Big Brother house last night, and unfortunately for those who back-stabbed her, she is now on the jury house–Dan, I'm looking at you.  After an emotionally gripping week of unexpected plot twists, the winner of the HOH contest after Big Brother left the air last nice is extremely apropos: Ian.  How exactly will Ian exact revenge for the fallen Britney?  That is what we are here to discuss, since the Hamsters apparently cannot!
The strangest thing to happen on the feeds, and something that will no doubt stimulate the conspiracy minded Big Brother fans, occurred when Joe was talking to Ian about who he intended to put up.  Big Brother announced over the intercom that the house-guests were NOT ALLOWED to discuss nominations.  Some nervous glances were exchanged amongst the house guests, and nary a word was spoken regarding nominations from that point on until after the feeds were interrupted by the fish tank of doom a couple of times.
As far as alliance building goes, it appears that Dan, Danielle, and Shane are talking alliance, but it is easy to see who benefits most from that in the short term, and if Dan is not careful he could become as notorious as Ian is at the moment for short term loyalty.
The fact is, Ian will probably focus more on Dan than Frank because Dan is the architect of Britney's demise and he knows it.  Ian will most definitely want to avenge her while he has the chance, and honestly it is the best tactical move.  Dan has played the game before, and WON the game before, and clearly still has the strategic mindset to pull through a tough jam.
It is also very unlikely that Ian still holds a grudge against Frank, for two reasons:  one, he really did have it coming.  Two, he believes that Frank was manipulated by Dan, and last night Frank went so far as to throw Dan under the bus to Ian.
So while it is very likely Ian will nominate Dan and Frank, expect most of the campaigning to work in Frank's favor.