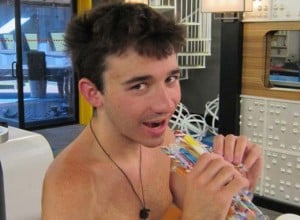 Boogie is gone! Â Long live the Boogie! Â Mike Boogie may be out of the Big Brother house, but his training lives on through his progenies Frank and Ian. Â He's like Yoda of the dirty game. Â I keep expecting to see his translucent visage appear whispering pertinent advice into their ears. Â If in fact his spirit is guiding anyone in the house, it's Ian. Â After last night's double eviction episode, a fired up Frank stalked around the house demanding people tell him who was behind knifing him and Boogie. Â Boogie had managed to tell Frank that Ian could not be trusted, which as we saw resulted in Frank going on the block YET AGAIN, and you would think that Frank would have paid attention to his mentor's warning, as if they needed more support.
Well the first big spoiler for those who don't know: Â Frank is HOH. Â Now under any form of logic, this should lead to an Ian nomination; but no. Â Proving that he paid more attention to the ways of Boogie than Frank, Â Ian uses psychology to wiggle free of nomination, or so it seems. Â Ian blames Dan, knowing full well that Frank will be predisposed to accept anything that expands Dan's nefarious reputation as truth, for turning him against Froogie, claiming that Dan convinced him that he had heard Frank and Boogie call Ian 'expendable.'
As far as nomination talk goes, with Ian back in Frank's good graces the new HOH is focusing on coaches:  Britney and Dan.  Both very good choices from a game point of view, but of course Ian would be the easiest to get out since EVERYONE in the Big Brother house knows he is a flip flopper. Ian is playing a dangerous game trying to be both mole and player.  He's an effective mole, true, but he is also playing his own agenda, which doesn't wrap around well since you eventually have to screw people who trusted you.  We're beginning to see the baggage form from this with Dan and Britney considering outing Ian as the driving force behind the Quack Pack to help get one of them off the block.  At nomination, I totally expect this outing to take place at which point Ian will have two options:
Admit he was responsible and take his chances on the block, remaining Frank's target for the remainder of the game.
or
Deny everything and lose every ounce of loyalty he has in the house, but possibly remain under Frank's protection for one more week.
Prediction: Â Frank is way too emotional, and Boogie's warning is still fresh in his mind. Â If Dan, Britney, and Shane were to throw Ian under the bus, you'd probably see Ian and Joe on the block, with Joe being a pawn.
It's a desperation play for sure, but not unprecedented in Big Brother history, and OH THE DRAMA! Â Let's hope Ian survives that bus that rolls over him.
So what do you think? Don't forget to drop in to our Big Brother forum and start/join in the discussion.
[polldaddy poll=6487054]