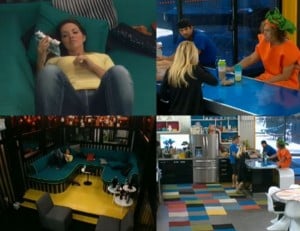 Never in the history of Big Brother has there been so much blatant hate between two hamsters as there is between Frank and Dan.  The rivalry has grown to near epic proportions, only near because NOW Frank and Dan are working together.  That's right Big Brother fans, Frank and Dan have buried the hatchet and you can thank Ian's hubris for all of it.  Ian, no doubt, is next.  So how did it happen?   It happened like this:
UPDATE:  The POV Meeting has Happened!  Read this next to find out what happened!
After saving himself from the second eviction last week, and losing his trusted Ally Ashley, Frank won HOH and put Dan and Danielle up for eviction.
There was a competition for an additional POV on Sunday and Ian told Dan he had snared the Veto even though he hadn't.  This was obviously an attempt to slow Dan down, who was obviously trying to snare the Veto to remove himself from nomination.  Dan made the comment that he would rat Ian out.  Ian subsequently DID win the veto ball. In the POV competition, Jenn won the POV but was still smarting from being put up in Frank's place last week and vowed to not use the POV to bring Dan or Danielle off the block.
Ian used Frank's hatred of Dan against him, convincing Frank that Dan had manipulated him into nominating Frank and Ashley by lying to him.  Frank fell for it, but not for long.  Here's how it was all undone:
Dan has been a have not, and it has been getting to him emotionally.  Dan had a panic attack yesterday and had to spend some time with the medics, after coming back he had a sort of catharsis and decided to hold a funeral for himself.  I'll spare the details for the show because it's good TV, but after addressing them as a house he took Frank aside and gave him the entire truth regarding Ian and the Quack Pack.  Essentially that the whole back-stab was all Ian.
Dan and Frank then planned the ultimate mind bending secret alliance. Since Ian has the first veto, he will decline to use it, per his agreement with Frank.  Frank made sure of this with one of the most leveraged moves in Big Brother history, he told Ian that if he uses his VETO then he will put up Britney, Ian's best friend in the house.  Ian believes Jenn will also decline to use her veto and has no reason to think otherwise since Jenn was also screwed by Danielle and Dan when she was put up.  However, the plan has changed.  Once Ian has lost his opportunity to use the VETO,  Jenn will take Dan down off the block and Frank will replace him with Britney.  From this a new 4 person alliance will step forward which includes Dan and Frank, who have made a pact to take each other to the final 3.  They already plan on bringing Joe with him since they think they can best him in competitions.
Needless to say, the POV meeting will be something to watch, be sure to tune in Wednesday at 8PM on CBS to see it all go down.
UPDATE:  The POV Meeting has Happened!  Read this next to find out what happened!