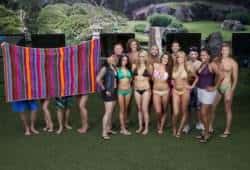 With Big Brother 14 finally premiering tonight, we here at TVO are feeling a bit clairvoyant in guessing who could be the first three House Guests to be evicted from the Big Brother House. While tonight's premiere episode is guaranteed to be epic in scope, the first three Eviction Nights will set the stage for this game-changing season of Big Brother by weeding out the weak players, while place popular personalities center stage. Before we go on to reveal who we think will bite the dust early, we want to state that this is all fun speculation in excitement for tonight's premiere.
So who do we think will be the first three HGs leaving the Big Brother house? Ian, Jenn, and JoJo. Why these three? Blame it on the Returning Mentors/House Guests twist. With Janelle, Britney, Dan, and Mike Boogie giving advice to the newbies, Ian, Jenn, and JoJo seem as if they will give the most resistance, or attitude, to the former Big Brother contestants. And we all know that the joint egos of the Mentors is like a hurricane waiting to happen.
As stated before, Ian reminds us of Ronnie from Big Brother 11 with his self-proclaimed genius and nerdy exterior. Janelle might have visions of the Nerd Herd from Big Brother 6 when she sees Ian, while the other three Mentors might see him as being completely useless. Jenn might come across as bit too rough for all the Mentors. Finally, JoJo might bring a split in the Mentors group with Mike Boogie and Dan probably wanting to sleep with her, while making Janelle and Britney want to slap her.
What we still don't know is just how much influence the Mentors will have on the HOH/Food/POV competitions, nominations, and eviction votes. In fact, we hope the Mentors will just stick to their job description and not interfere with the game at all besides giving some much-needed advice to their charges. But this is Big Brother, where expect the unexpected is the rule of thumb and nothing is really as it seems.
Again, this is all speculation, which means we could be horribly wrong in our predictions, but it doesn't hurt to have a little fun right?
So who do you think will be the first to leave the Big Brother house?