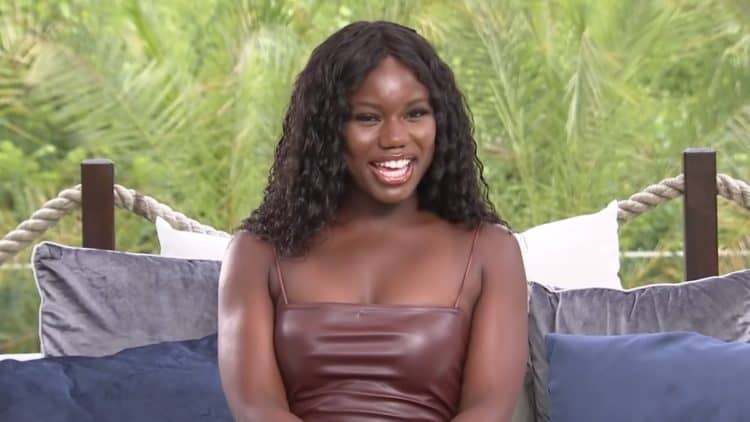 Born Tula Fazakerley, Big T is how she is best known to the world. Although she is originally from London, she became well-known to the American audience for her participation in MTV's The Challenge; Double Agents. Even though she didn't end up winning, she became a fan favorite. Lots of people are drawn to her bright and bubbly personality. Now she's back on the latest season of The Challenge (Spies, Lies, and Allies) and she's hoping to make it all the way this time. There are also countless people all over the world who are hoping for the same outcome. Continue reading to learn 10 things you didn't know about Big T Fazakerley.
1. She Was Adopted
Things may be going well for Big T now, but her life hasn't always been easy. According to Screen Rant, Big T said, "My original dad, he passed away when I was 17 years old, and my original mom passed away when I was 8 years old." She continued, "Because he didn't want me to watch her dying, that's why I was adopted when I was 4." She said that the loss of two parents at such a young age is something you never get used to, but "you just have to stay positive and try to be strong".
2. She's A Screenwriter
There's no doubt that Big T easily shines every time she steps in front of a camera, but what some people don't realize is that she's also been on the other side. In 2019, she was credited as a writer for a TV miniseries called Bouji Babe Life Lessons. It's unclear if she plans to do more writing in the future.
3. She Loves The Beach
Big T works hard to maintain a beach body all year long, so it goes without saying that she's going to show it off every chance she gets. She loves hanging out by the water and the beach is one of her favorite places to be. There's always something satisfying about being able to enjoy some fun in the sun.
4. She Enjoys Connecting With Her Fans
Big T is extremely thankful for all of the support she's gotten since breaking into the reality TV world, and she enjoys showing love to the people who show love to her. It's pretty common to see her interacting with her fans on social media, and it's obvious that people love hearing from her.
5. She Is A Positive Person
With all of the things that Big T has been through, no one would blame her if she had a negative outlook on life. Surprisingly, though, her mindset is the opposite. She is someone who does her best to see the good in everything. Having a positive attitude has definitely come in handy for her over the years.
6. She Is Signed To A Talent Agency
There was once a time when being on a reality TV show was nothing more than 15 minutes of fame. However, those days are long gone. Now, being on a reality show can lead to lots of other opportunities so it's important for people to have the right team with them, and that's exactly what Big T has done. Big T is represented by a London-based talent agency called United Agents.
7. She Loves Fashion
Whether she's getting ready for an event or hanging out with friends, you should know that Big T is going to show up looking her best. She really likes fashion and she has a great eye for putting stylish outfits together. Her clothing choices always match her bright and bold personality.
8. She Felt Betrayed By CT
Anyone who has ever watched a season of The Challenge knows that, at some point, betrayal is the name of the game. But that doesn't make those situations any easier to deal with, and Big T knows this first-hand. When she competed on season 36 on the show, she was hurt when her teammate, CT Tamburello, decided he wanted to switch teams.
9. She's Been In A Handful Of Reality Shows
In 2019, Big T made her first reality TV appearance in the show Shipwrecked: Battle of the Islands. Since then, she has continued to find ways to be in front of the camera. On top of her two seasons on The Challenge, she has also been in a couple of other reality shows including Twisted Guide to Life.
10. She Likes To Travel
Big T understands the importance of living life to the fullest, and traveling is one of her favorite ways to do that. She loves getting to experience new places and she's been fortunate to have done lots of traveling over the years. As you can probably guess, she particularly loves visiting places with beautiful beaches.