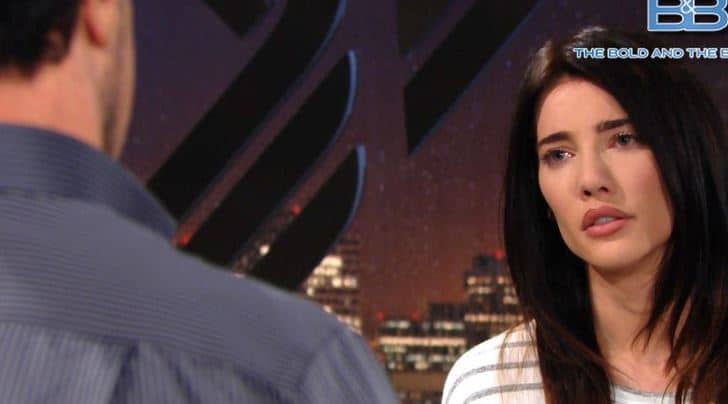 The Bold and the Beautiful fans watched as a lot of stuff went down recently, and it's all been good stuff for Hope. She's been able to get Liam to want to be with her, she's been able to get reassurance that stealing a man from another woman is all right from her mother, and she has no idea, but Bill is working behind the scenes to make sure that she gets to keep Liam so that he can have Steffy. This is all a mess, but it's working out quite well for Hope. Her mother and her mother's husband are back to not getting along anymore considering this is all such a mess, but she's not all that concerned about any of that. She is just happy that things are working out for her, though she's having at least a bit of a moment of pretending to feel bad about all she's doing wrong.
We just know that things are not what they seem. We know Steffy was hurt and shocked when she walked into that situation and it happened to be that Liam and Hope were in a very compromising position, and she was not happy about it, but there was little she could do in the moment. She ended up going to Bill and allowing him to make a deal with her we know she will eventually regret. She's not happy about all the things that happened in her life, and she's going to see if she can make him pay like it's not his business. She's out for blood at this point, and we can only assume Liam and Hope nee to watch their backs and see if they can get their situation under control. It's ugly.
What's Happening on the Bold and the Beautiful
For tween day on @PriceIsRight Kids Week, check out #BoldandBeautiful's @aaronDspears when he was a tween. He hasn't changed a bit! pic.twitter.com/QriPOne7VC

— Bold & The Beautiful (@BandB_CBS) July 26, 2018
We love Aaron D. Spears, and we think fans do, too. For one, they're all over the fact that he needs his own storyline and that he should become the ultimate rival for Bill Spencer. Well, we don't know about that happening — though it would be amazing. But we do know that when the show threw us back a few years to his tween age, we thought to ourselves that this is a man who has not aged a day in however many years. Did you know it was him, or did you need a little more time to decide who this picture represented in the past?
What's Next on the Bold and the Beautiful
TODAY: Furious, Steffy heads to Bill's prepared to make a deal that will give her ultimate power in her personal life. #BoldandBeautiful pic.twitter.com/a1dGYOCiYm

— Bold & The Beautiful (@BandB_CBS) July 25, 2018
Brooke cannot stay in her lane. She's just not able to get her life in control, and she's not able to mind her own business at all. She's someone who needs to take a lesson from all the people who have made the same mistake in their lives, and she needs to get back in her lane. She's currently telling her daughter she has no reason to feel bad about all the things that she's done to Steffy and her new family with Liam, and now she's telling Liam that he's not right to feel guilty about making out with Hope and taking her clothes off of her when his fiancé walked into the room. For whatever reason, she seems to think it's perfectly okay for him to make out with her daughter and not feel bad when his fiancé and the mother of his newborn baby walks in and catches them.
And she's just going to continue to get in their way and make it her mission to stop what she's up to and get in their way. She's going to interfere as much as she can about this. We will also see that Steffy is about to tell her father what is going on and ask him to be on her side. She's not all right with this, and we don't blame her. Ridge will be furious, and we know it. He's not going to be happy, and there is nothing she can do to stop him from taking his anger out on his own wife when he finds out.
Stay tuned for more The Bold and the Beautiful and be sure to check out TVOvermind daily for the latest The Bold and the Beautiful spoilers, news, and updates.