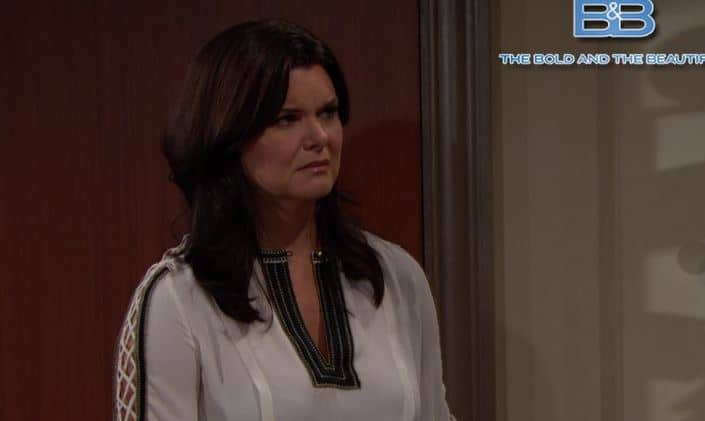 The Bold and the Beautiful is taking a turn for the calm this week. There was a lot of everything last week, and this week it's finally calming down and changing into something a lot more calm and relaxing. We saw the big wedding go down last week, and it was pretty smooth. There was one moment during the reception in which two women could not keep it together, but they were immediately sorry for what they did and they made it right for the bride and groom. Taylor and Brooke didn't have the best moment when they threw the cake at one another, ripped their dresses and their hair, and made a scene as they fought about what they thought was the best for their own daughters. They both should have stayed out of it entirely.
And then we saw that Liam planned a lovely honeymoon in Brooke's cabin for them. They might not be going far, but they are having a good time where they are and with one another. Their love for one another is very obvious right now, and we aren't even going to discuss Steffy setting that up for them by taking herself out of that love triangle. What we are going to do, however, is discuss the promise that Bill made to his son and to Katie to be a better father that he also promptly ignored. He's not the best role model, and Thorne has offered to make up for that in the little boy's life. It's a nice gesture, but he can be a good role model without advertising it and offering that up like it's not just something he should be as a general rule. This will certainly cause some big problems, and we are not going to forget that.
What's Happening on the Bold and the Beautiful
Celebrating #NationalDogDay with one of our favorite visitors! Jacqueline MacInnes Wood's pup fits right in on the #BoldandBeautiful set. 🐶 pic.twitter.com/Psv3vpC1ae

— Bold & The Beautiful (@BandB_CBS) August 26, 2018
We love dogs, so a day that's all about them seems just right to us. It turns out the good people at B&B also love dogs, and they've shown off their love of dogs by showing us the gorgeous Jacqueline MacInnes Woods' sweet pup – and it's everything cute. We love it, and we think it's time for you to share photos of your own dogs if you are missing a little bit of excitement there. We can't wait to see it all happen if everyone just loads the internet with their dog photos. Best. Day. Ever.
What's Next on the Bold and the Beautiful
The line was drawn and in this custody battle there's NO kidding around! Don't miss what happens this week on #BoldandBeautiful! pic.twitter.com/Q1TiXGGcdF

— Bold & The Beautiful (@BandB_CBS) August 26, 2018
There's a lot going down this week, and we will start with Bill and Katie. They had a moment last week when they actually got along and things seemed to be working out for them, but that moment has passed. They are no longer in that position now that Bill made his new position as a father fail in a moment, and now that Thorne has offered to step in and play the role of father for this young man. It's not going well when Bill finds out that this is happening, that Thorne told her to fight for full custody, and he will tell her that she needs to back off. We hear is he is going to issue her a warning about their son and about her life, and it will not go well.
Ridge, on the other hand, is very proud of his daughter. She's maintained composure and class through the entire wedding situation, and she even took it upon herself to go to the wedding and behave well and wish the newlyweds luck on their new life. She's grown up a lot since she had her baby, and things are turning out well for her. We haven't seen much of Quinn in a while, and she's back. She's about to find out Zoe has an offer for her, and it might just be one she cannot refuse. She's not going to have much else to say about it, but it's going to be one of those things that works.
Stay tuned for more The Bold and the Beautiful and be sure to check out TVOvermind daily for the latest The Bold and the Beautiful spoilers, news, and updates.