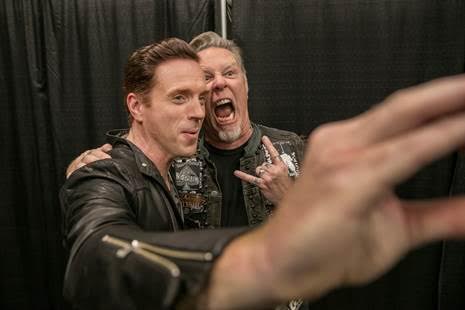 This Sunday Showtime will air a brand new episode of Billions at 10 p.m. ET, featuring one of the most influential rock bands of all time, Grammy Award winners Metallica. A bonafide hit for Showtime, Billions ratings have continued to surge by double digits week after week since its premiere — delivering a series high for its most recent episode. To watch an exclusive clip from Sunday's episode check it out below.
One of the biggest selling acts in American music history, Metallica will be featured in this Sunday night's episode of BILLIONS, which was shot on location in Quebec at one of the band's tour dates last Fall. This weekend, Metallica will also headline CBS Radio's third-annual The Night Before concert event, the evening prior to Super Bowl 50, at AT&T Park, home of the San Francisco Giants.
In this week's episode, after getting one of his Portfolio Managers out of trouble with the police, Axe takes a spontaneous trip to see Metallica in concert with his childhood friends. While there, he meets a free spirited young woman (guest star Kerry Bishé) who makes him face the limits of his own freedom. He also must fend off a short squeeze–an attack on one of his important holdings–led by Chuck's father.
Back in New York, Chuck has an epic day-long proffer session with Pete Decker, learning important facts about the inner workings of Axe Capital. But Chuck must also take action against his own father for his stock manipulation.
Here's a sneak peek