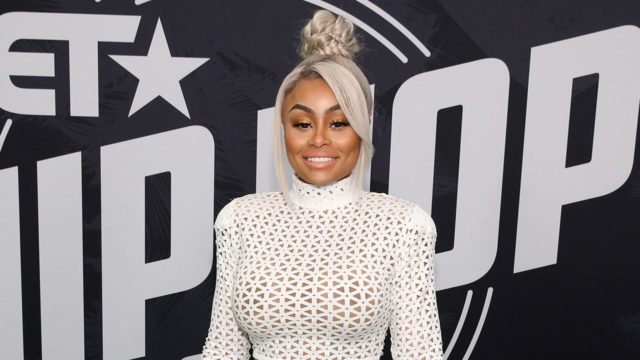 So Blac Chyna threw a stroller at a woman at Six Flags amusement park. Right away that sounds like the kind of ridiculousness that can be associated with anyone that's ever been connected to the Kardashians, but her explanation was half sob-story and half completely understandable aggression.  Apparently on Easter the mother of two was at Six Flags amusement park with her children, taking videos and pictures when someone approached her kids and, well, started messing with them. It's uncertain just what happened since despite there being a video of it, which isn't all that great really if you take a look at it. Right now it's hard to know who to believe and which story to take since the woman that Blac Chyna wanted to beat senseless has told her story as well.
So let's lay down the 'facts' that we know as of now….
Blac Chyna's nanny was pushing her daughter in her stroller and she was following behind. Apparently the woman, her name is Alexis, thought that the nanny was the child's mother and touched her with one finger in a harmless gesture after saying she was cute. The nanny didn't tell her to back off but smiled her thanks and moved on. Blac Chyna however, who was right behind her, simply stated "Don't touch the kid" and proceeded forward. If this was how it happened then why in the world wouldn't Chyna say something more along the lines of "Can you please not touch my child?" instead of acting like a thug? Again, this is Alexis' side of the story, as Chyna's side makes it sound like the young woman was about to snatch her up and go.
Blac Chyna was being extremely aggressive in the video. According to Alexis, who had gone over to apologize for touching the child once she saw Chyna again, the celebrity started taking off her rings and other items in an obvious attempt to get ready for a fight. Now keep in mind that a good parent would no doubt throw down if it came to the safety of their kid, but an even better parent would first make sure their kid was out of the line of fire and then perhaps explain just what the problem was before throwing hands or anything else. Sigh, I did say a 'better' parent, and this is a woman that's been around the Kardashian family, so her heartfelt words on Twitter aren't able to create as lasting of an impact as they could otherwise. Plus leading into something that's supposed to be about your kids with the line "Being famous is hard enough dealing with scrutiny.." kind of takes the warm, cuddly feeling out of it, especially when you see that the other woman wasn't attempting to fight back and Blac Chyna was fully ready to get it on and get dirty.
So the sob story is that Blac Chyna, who's really only famous for a couple of reasons, went nuts on a woman that thought her kid was cute. But hey, being 'famous' is hard work.