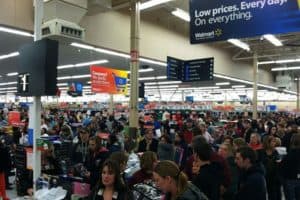 Most people sit outside their favorite superstore on Black Friday freezing their keysters off for the latest must-have gadget of the season, the hottest toy for the little ones, or just to see folks act a fool like a sport spectator. We, on the other hand, are one of the few who go for smaller priced items, like kitchen appliances, clothes, and most importantly, the insanely slashed priced DVDs and blu-rays that will make my day just as much as having a new iPad or XBox under my tree. Okay, I'm lying, we would totally love a new iPad or XBox under my Christmas Tree, but paying $10 bucks for the latest available season of True Blood and The Vampire Diaries instead of $50 will give an equal amount of joy, even if it's only temporary.
Over the past month or so, the Black Friday 2012 sale papers have leaked online and we here at TVOvermind have comprised a list of the best deals we've seen so far from Walmart, Target, Best Buy, etc. Online Black Friday 2012 deals (as well as Cyber Monday 2012 deals)are still a bit sketchy for megasites like Amazon, who still have most of their DVDs/Blu-ray titles marked at their normal selling prices, and probably won't actually go on sale until the day of the big events. So we're going to leave those off the list for now to avoid confusion.
Also, we should note that 1) the stores didn't list all the titles they will have on sale and 2) most of these deals are available in store only. Finally, no word is available on whether both DVD and Blu-ray versions of these titles will be available or not. So which shows are you going to have to wrangle out of a fellow shopper's hand come Thanksgiving weekend? Let's find out…
Best Buy
$7.99 Titles – (Over 100 Titles to Choose From) - Arrested Development, The Big Bang Theory, Bones, Eastbound & Down, Family Guy, Firefly, How I Met Your Mother, It's Always Sunny in Philadelphia
$8.99 Titles – Breaking Bad (Season 4) and The Big Bang Theory (Season Five) [Doorbusters]
$9.99 Titles- (60 Titles to Choose From) – Breaking Bad, Entoutage, Fringe, The Walking Dead, Justified, Smallville, Supernatural, Hatfield & McCoy, and possibly many more.
Target*
$8.00 Titles – Mad Men, The Walking Dead, Weeds, Seinfield
$13.00 – Entourage, Glee, Downton Abbey, The Big Bang Theory
*We're sure there has to be more titles than what Target released in their ad, but these were the only eight that we could confirm.
Walmart
All titles will be $9.96 – (Over 60 titles to choose from) Heroes, How I Met Your Mother, Bones, The Walking Dead, True Blood, Sons of Anarchy, The Big Bang Theory, The Vampire Diaries, Supernatural, Spartacus, and possibly many more.
So with this starter's guide, are there any particular deals you are looking forward to or know about? Share them with us in the comments section. And Happy Bargain Hunting from us here at TVOvermind.com
Photo Credit: Best Black Friday Deals