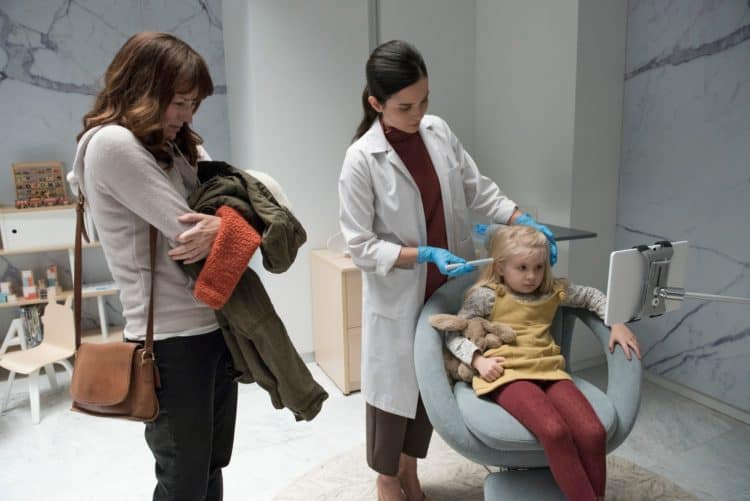 With reboots and remakes firmly settled in as continuing trends the spinoffs of many movies and shows have been making headway as well, and it would appear that the episode of Black Mirror featuring the USS Callister will be happening at some point. For those that have been watching Black Mirror, this has been one of the more noticeable creations that have taken place as Jesse Plemons and his costars helped to make it a memorable addition to the ongoing phenomenon that the show has provided. It does sound as though there might be a dispute when it comes to IP rights, and there's currently no guarantee for a sixth season it sounds like, but most people aren't too worried about this since they're of the firm belief that things will even out and the show will continue, as will the spinoff. Where the USS Callister will end up going and what the crew will get into is hard to say since the last time we saw any of them they had mutinied against their cruel captain and taken control of the ship.
Many people are calling Black Mirror the modern-day Twilight Zone and they're not entirely wrong for doing so since the advances in technology and the way this show has handled the paranoia about such things has been kind of odd at times but definitely entertaining. The disturbing images and dark humor that come with the show has at times managed to make some people uncomfortable, but then even the Twilight Zone made people uncomfortable at one time since the ideas within the show were so radical and out of bounds at times that people didn't know what to think. The fact that Black Mirror has done the same in the current era is kind of impressive to be realistic since it takes a great deal of effort at times to reach people through TV and the technology that is so highly prized and used on a daily basis.
Whether the USS Callister will be the only spinoff or not is hard to say since at this time there's not much else to say about the spinoff other than the fact that it is coming and it will explore the same story in a way that will take things further and create an even more impressive tableau for the viewers. One thing about Black Mirror is that one really doesn't know what they're going to see until it's on the screen, which could be a big reason why it's still this popular since it's not as easy to predict and is willing to go to various lengths to appease the fans that have come to enjoy the show and the oddball stories it tells. The twists and turns the show takes from reality have gone a long way towards securing and keeping the attention of many audience members as several of the stories have been listed as favorites while many of them have managed to be great enough to make some sort of impression. That's one of the many things a show needs to do after, leave an impression that people won't want to let go of.
The plans for the spinoff have been building for a while it sounds like so it's easy to think that so long as there aren't any huge problems it might be that development will be able to get started on the spinoff eventually, but again, right now there aren't really any assurances. It could be that we'll see it happen within the coming year or two, or something might derail it and we won't see it all until everything gets sorted out. Leaving things up in the air isn't a great way to go about appeasing the fans, but when it comes to Black Mirror it does sound as though people are more than willing to wait at times since they've been given good reason to do so at times. When a show can do this it's definitely something that's hit a nerve in society and has found a positive reaction that it will attempt to build on. With the list of shows that are hoping to come out in the next year or two though one can imagine that the spinoff will have a lot of stiff competition that will be looking for exposure.
This isn't really anything to worry about though since plenty of people will return to anything that has to do with Black Mirror at this point since the stories that have been presented have been seen to keep people entertained and interested in seeing more. The spinoff is bound to be intriguing since there's no telling what direction it's going to head off in, but until we find out people are likely to start guessing and theorizing.