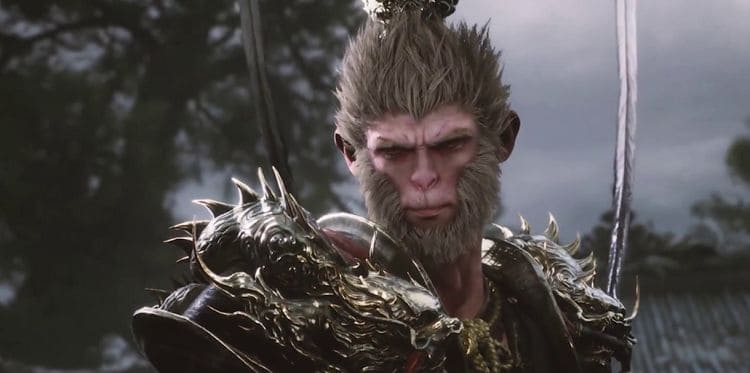 Eastern mythology is starting to reach mainstream appeal in a broader frequency these days. Black Myth: Wukong is the latest example of this. The Monkey King has had many installments throughout movies and literature. He originally appeared in the 16th-century novel Journey To The West and he has become a staple with Chinese folklore ever since. The Monkey King is basically a trickster god that can execute super-human feats and also has the ability to shape-shift into different animals and objects. Through the gameplay trailer with Black Myth: Wukong, the developers at Game Science Interactive Technology appear to be staying true to the roots of this character. Given that this game is based on the novel Journey To The West, it's no surprise that the developers are going to great lengths to keep this classic Chinese story to be as authentic as possible. Journey To The West is considered one of the four literary masterpieces of Chinese lore and it is ripe with content to use for crafting a video game.
The game will be a Dark Souls-inspired RPG that will follow Sun Wukong through his life starting from birth all the way to him learning the secrets of immortality. With this story, players will see how Sun Wukong learned Taoism and the mastering of different languages and martial arts through the interactions of different classic characters. Game Science Interactive Technology is a new developer that was founded in 2014 and they have been slowly growing ever since. They started off making mobile games such as Art of War: Red Tides and 100 Heroes and Black Myth: Wukong is their first hurrah to major gaming platforms. The trailer that was dropped back on August 3, 2020, garnered a lot of attention that added up to over 10 million views. Nobody was expecting it and seeing it in action was a breath of fresh air when it comes to ARPGs.
Video
A Monkey's Life
Things have been pretty quiet regarding the development of Black Myth: Wukong. This can be understandable since Game Science Interactive Technology is a rather small team and they're taking on a hefty project. Based on what is seen in the trailer, the combat is going to be tactical and very much will have the flow of the Souls games. Just like the book, Sun Wukong will have the ability to transform into 72 variations of beasts and objects. This will clearly play a major factor in the game that revolves around combat and bypassing areas. The character will also brandish a magical black iron staff that can do a variety of things like deflect projectiles and it can even change in size. Since The Monkey King is some kind of a demi-God, he also possesses magical abilities that can also manipulate the environment. Whether or not players will be using Sun Wukong's classic magical abilities during gameplay in real-time still remains to be seen.
It's currently not known how far the developers are willing to take all of the magical attributes Sun Wukong has in the book. The story explains all different kinds of magic that The Monkey King can summon at will. According to the story, Sun Wukong can control the weather, clone himself, leap across clouds, and can jump over entire continents. These types of powers can transfer over fittingly to a gameplay point of view rather nicely. The powers that Sun Wukong has are really no more extravagant than things players have witnessed in Legend of Zelda, Bloodborne, Final Fantasy, or even Super Mario Bros, for that matter. Of course, the gameplay that has been showcased has been limited and it's very possible that all these said magical attributes will be implemented into the game somehow. It's going to be a while before players will know for sure.
Clash Of The Creatures
Needless to say, Black Myth: Wukong is going to have a plethora of enemies that are featured throughout Chinese folklore. Players will come across giant fire-breathing rats, wolf titans, massive skeletal spiders, and bulky bipedal ox warriors. There were also glimpses of epic battles with entire armies to where Sun Wukong needs to fight alone. It looked like something that was in the same vein as Dynasty Warriors or even For Honor in terms of scale. It's not entirely sure that whether or not this game will be open-world or will have a hub-world. Given that the "Souls" games had a little of both with their design, it's difficult to pinpoint just by watching the trailer. However, what is established is that this game is going to be action-packed with a mystical martial arts extravaganza at every turn.
As of right now, Black Myth: Wukong is going to be a strictly single-player game. It is not known whether or not this game will have an online feature. Of course, since it's stipulated that Sun Wukong can clone himself, maybe that will be a good reason for other players to jump in and help each other out. Maybe a messaging feature that is prominent in the "Souls" games could be used. Game Science Interactive Technology hasn't really made anything concrete at this moment and this is subject to change in the near future. At the very least, there is no doubt that an epic journey is being crafted by these developers and it definitely has many fans of action RPGs interested.
Riding The Clouds
Black Myth: Wukong is still a long way off and there's a considerable amount of time for Game Science Interactive Technology to finish up this product. Given that there are centuries of written material documenting the adventures of the Monkey King, there will be no shortage of things to discover. Even though this game is being built by a small team of developers, even the pre-alpha trailer looks impressive. Considering that this game won't be released until sometime in 2023, gamers will need to wait for more information to be released later this year. Black Myth: Wukong will be available for the PlayStation, Xbox, and PC upon its release in the near future.