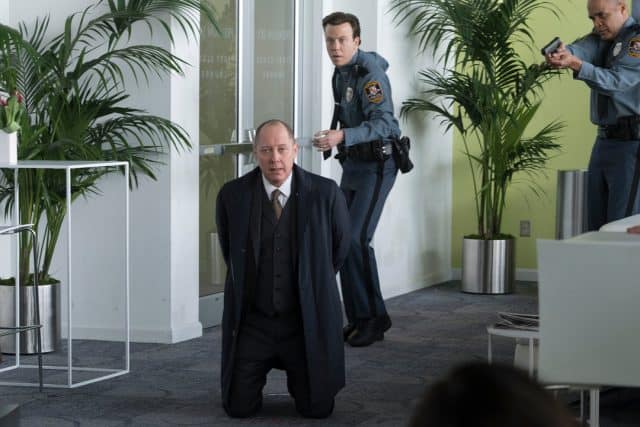 The Blacklist is continuing to build momentum as Reddington gets ever closer to finding the person responsible (or at least that HE's holding responsible) for Liz's death. As they edge closer, the story gets more exciting, and the uses of each character get better and better. The build is fantastic, and hopefully it builds to something great.
This week on The Blacklist: Red, now having identified the mystery woman as Susan Hargrave (Played by X-Men's Famke Janssen), enlists the help of the task force to identify her connection to Liz's kidnapping and find out what she knows. Tom must manipulate a young girl to help Aram plant a bug.
The plot was really pretty simple in this week's episode. Let's find out who this lady is and find out what she knows. Though part of me can't help but feel like they're just building toward the spin-off with Ryan Eggold and Famke Janssen, the rest of the plot was pretty exciting, and did a good job of getting me primed for the rest of the season. Though, let's be honest, we all know how this season is going to end. A cliff-hanger with Tom and Susan (since we don't know if the spin-off will get picked up) and Liz showing her face again. Anyone want to put money on this?
The outcome I predicted troubles me slightly, but only for one reason: it kills the stakes. No one will be worried about a central character's death. I realize I'm getting off-track here, but I wanted to say that to say this: as much as I love Megan Boone, this show doesn't need Elizabeth Keen. It's just as entertaining as it's ever been to watch Reddington get Tom and Aram to help him take down whoever he wants. Tom makes a fantastic addition to the task force team. His field operation skill, though it lacks ethics, is a welcome addition. I'm always complaining, too, that the other agents don't get enough screen time. If future episodes handled Ressler and Samar like this one did Aram and Tom, I would watch the heck out of it. Amir Arison and Ryan Eggold rose to this particular occasion, and we had a really fun episode because of it. "Susan Hargrave" did an excellent job of using the tools it was presented with to build a compelling story, which aside from being borne out of her death, had little to do with Liz.
Famke Janssen's Susan Hargrave is very much a formidable female Reddington. I thoroughly enjoy watching her in any role she plays, and this one was no exception. She commanded my attention on screen in what appeared to be effortless action. Her opposition of Reddington painted an irony as she behaved just like him. Though, obviously, she could never be Reddington, and he bested her. James Spader, as usual, laid some incredibly gripping groundwork for their eventual confrontation, playing all sides of the wildcard Reddington. It was fun, fast paced, and both Janssen and Spader performed masterfully to make a compelling piece of television.
Though I'm worried about the Liz resurrection, the show is as exciting as it's ever been. I'm excited to see where things end up, and if they do it right, I can be okay that they're cheating death. Or maybe they won't do it, which could be even more interesting. Either way, "Susan Hargrave" was a compelling antepenultimate hour for the third Blacklist season, and things should only get more interesting from there.
What did you guys think? Did you enjoy the episode? Let us know in the comments!
The Blacklist airs Thursdays at 9/8c on NBC
The Blacklist Season 3 Episode 20 Review: "Susan Hargrave (No. 18)"
Summary
Reddington enlists the help of Tom, Aram, and the rest of the task force to track down Susan Hargrave on this week's episode of The Blacklist.