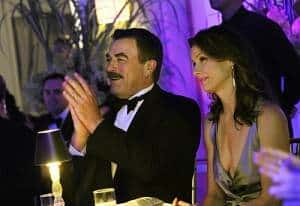 The hit CBS show Blue Bloods returns for its second season in two weeks. The season premiere will feature Tony Bennett and Carrie Underwood guest starring as themselves.
In the premiere of Blue Bloods, a supporter and fundrasier for the mayor elect is murdered and found dead in his car He also happens to be the husband of one of Erin's close friends. The mayor wants Frank Reagan to tell the public that the death is nothing more than a random act of violence, so that his new position isn't jeopardized, but Frank feels cornered by this request. Jamie is working his own case in the premiere when he goes undercover at a bar and meets a suspicious patron.
Bennett and Underwood will be performing at the major's fundraiser that is featured in the episode. Tony Award nominee Kelli O'Hara guest stars as Lisa, Erin's close friend. Cassidy Gifford (daughter of Kathie Lee Gifford) guest stars as Mandy, a girl at the bar.
Below is a trailer for the season premiere.
Blue Bloods returns for its second season on Friday, September 23 at 10:00 pm ET on CBS.