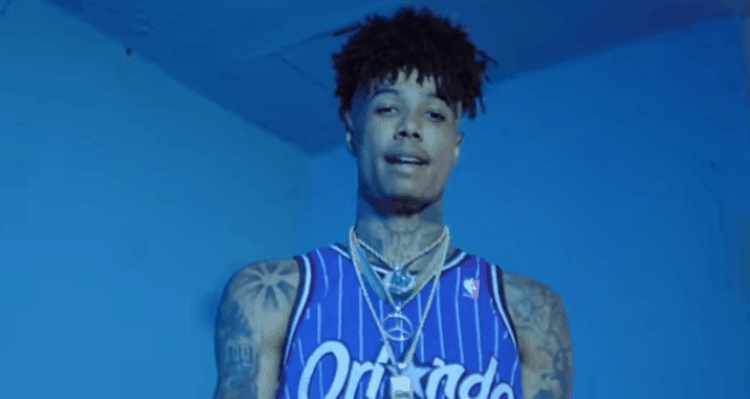 Up until October 2018, the name Blueface was an enigma in the world of celebrities. Little could be said of the now much-hyped American rapper who is riding on a wave of success in hip hop. His star shone brightly, however, when he released the video of his song titled "Respect my Crypn" in 2018. His popularity was further stamped in the minds of hip hop lovers by an outstanding Benjamin Franklin tattoo he flaunts on his face. The hot shot's real name is Jonathan Michael Porter and was born on the 20th of January, 1997. The star also goes by the stage names, Young Man Cryp'n and famous Crypn. Here are a few facts that you did not know about the new star in town.
1. His Personal Life
According to his Wikipedia profile, Blueface was born in Los Angeles in California and grew up on the mid-city of Los Angeles. He later relocated to Santa Clara where he lived for a while with his mother. He, however, moved in with his father in San Fernando, Oakland. He is currently said to be dating two women with one of them being the mother of his son, Javaughn. Before his rise to fame, Blueface was a stay at home dad doing temporary jobs for survival.
2. His Education
For most stars, the world of books is not a land of milk and honey. For Blueface, the case was not different; his education status is not a highlight in his life. He is said to have attended many elementary schools before finally joining Arleta High School in San Fernando Valley. Here the best he did was to star for the school in their football team playing as their leading quarterback. His heroics in leading the team in the region's championships won him a place at Fayette State University. He however left in 2006. Blueface's school life revolved around football and not books.
3. His Social Media Presence
Blueface has a vast social media presence where millions of his faithful fans monitor his life and interact with him. He has around 4.6 million followers on his Instagram account with over 970 posts. Here he flaunts pictures and videos of his life as well as advertising his music brand. Blueface also boasts of 141.1k followers on his Twitter account and over 13k others on his Facebook. He successfully uses these platforms to boost his popularity and stay relevant in the rap industry.
4. His Record Labels
The young rapper's prowess has attracted several record labels all over America. He currently has exclusive contracts with Birdman's Cash Money Record, West Coast Division. Moreover, the Republic Records distributes and sells his music and is also contracted to this label's mother label, the UMG.
5. His Hobbies and Interests
Blueface loves fun and lives like there is no tomorrow. As such, he flaunts multiple hobbies and interests. To start with, despite having forfeited his dream as a football player, he highly enjoys and loves the game. Furthermore, the hotshot is an entertainer meaning clubbing, and carousing is his life. He holds many pictures and video clips on his Instagram partying and entertaining his fans.
6. Greatest Hits
The star can attribute his rise to the peak of world hip hop to a few of his outstanding hits. The one notable hit that made him visible in hip hop is the song "Respect My Crypn." When the song's video was put up on twitter back in 2018, it merely became a meme. Folks made fun of his out of tune flow that does not follow beats and even compared his vocals to those of a character in the famous cartoon "Courage, The Cowardly Dog." Consequently, the hot shop gained massive popularity. The Thotiana hit has also uplifted the star's reputation in the hip hop world. The single made a debut at position 75 of the Billboard Hot 100 Chart and went on to rise to the 8th position. It also was ranked 4th on the US R&B/Hip-Hop chart, 9th in The New Zealand, and 12th in Canada and 17th in the United Kingdom. This jam racked over 4 million views on YouTube. The song also attracted remixes with high profile hip hop stars such as YG, Cardi B, and Young Ma. His recent hit, Bleed It, is also doing very well having amassed about 23 million streams in four weeks.
7. His Net Worth
With his rapid rise, Blueface has earned millions. His hits have garnered millions of views on his YouTube channel drawing him sizable amounts. Furthermore, his record deals with his music labels are also paying him very well. His current worth revolves around $4 million, a sum that continues to increase each day.
8. His Relationship Status
The hotshot surprised his fans sometimes back by showing off his two girlfriends. Many thought it weird, but the rapper claimed the two knew and accepted each other. However, he has gone on to dump one of them who he claims was after his fame and money. He is currently dating his baby mama.
9. His Criminal Record
Maybe in a bid to boost their popularities and create news, most celebrities are always looking for trouble. Blueface has been at the heart of problems from a young age. He even reveals in his hit song, Thotiana, that he blew his shot in football by disrespecting his college coach. Moreover, according to XXL Online Magazine, Blueface was arrested and charged with assault on the 16th of November 2018 after attempting to avenge a robbery. It is alleged that the rapper followed up his robbers and shot at their vehicle, causing a collision. He was arrested and spent a whole weekend in jail before being released on $50,000 bail. Furthermore, as revealed by Complex, earlier February 2019, Blueface was also arrested and charged with a felony for possession of an unregistered gun risking a three years jail term. He was however released on a $35,000 bail.
10. His Set Backs
The rapper has a lot of potentials to stay at the top of the hip hop world, but he got issues that might pull him down. One outstanding problem that is a cause for worry is his affinity for trouble. Blueface is always at friction with the law, and potentially career-destroying jail terms are imminent. The rapper also wields a destructive don't-care attitude. In a recent interview on DJ BOOTH, the rapper seemed unaware of his record deals. This level of arrogance may subject him to cons. The rapper also seems to have a weak spot for women; he recently boasted that he had slept with 1000 women in six months. If not careful, it might end up being a case of Samson and Delilah.