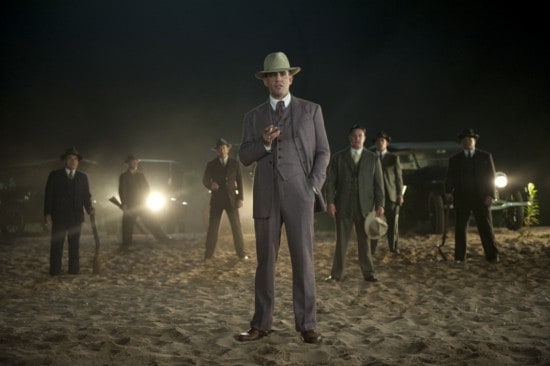 The entire point of Gillian starting her business this season on Boardwalk Empire was financial independence. Without Jimmy around (and with his finances dwindling), she would have to find some way to support herself, Tommy, and Harrow without having to depend on another man. Although she has an agreement with Luciano and had to jump through hoops for Leander to help her, the business was hers and hers alone to run as she pleases.
Until now.
On the next episode of Boardwalk Empire, Gillian will be dealing with an infestation of Rosetti thugs for the foreseeable future, as Gyp has officially taken over the business/building from her. This puts Gillian in a difficult position; she all but pledged her support for Gyp by giving him a tip on Nucky's whereabouts, leading to the bombing at Babette's that killed Billie, but with Gyp strong-arming her into a deal, she might have to rethink that. Only, the other side of the war features a man responsible for the death of her son and who indirectly helped to put her in this position.
Elsewhere on Boardwalk Empire, Meyer and Luciano are talking about what their next move should be now that they've backstabbed Nucky and gotten Owen killed. With their debt mounting, Luciano wants to start moving heroin and get into an agreement with another man, but Meyer isn't as quick to want to become a "full gangster" just yet. If they don't come to an understanding in the near future, they're ripe to be picked apart by a stronger alliance, particularly if Nucky gets wind of how Masseria knew about their assassination plan.
Boardwalk Empire airs Sunday at 9:00 on HBO. You can check out the episode description of the next episode here, as well as spoilers for the third season finale here.
What do you think Luciano and Meyer should do now? Should Gillian make a move against Gyp and join forces with Nucky? How will Harrow take to the increased Rosetti presence at the house?