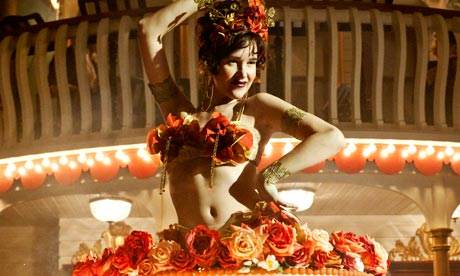 And the culling of Boardwalk Empire's cast continues.
Following three major deaths in its second season, Boardwalk Empire has cut another character in the infamous Lucy Danziger, according to TVLine. When we last saw Nucky's former mistress, she had given birth to Agent Van Alden's child after a one night stand, an event that found the young woman lonely, confused, and increasingly claustrophobic in her tiny apartment. Toward the middle of the season, Lucy went on a formula run and never came back, leaving her child (later named Abigail) with Van Alden (joined later by a young nanny).
Model/actress Paz de la Huerta has made a name for herself with her erratic off-screen behavior, including having a drunken night immortalized in a Lana del Rey video. She's previously appeared in the likes of A Walk to Remember, Choke, and episodes of The Practice, X Femmes, and Law & Order.
Boardwalk Empire may not have picked up de la Huerta's contract option for a third season, but they've already been adding new characters to the scenic Atlantic City landscape. Notably, Tony nominee Bobby Canavale will be joining season three as a new rival to Nucky, but I wouldn't be surprised if at least one or two more additions are made between now and fall.
The show recently picked up two SAG Awards, repeating its wins last year for Outstanding Performance by an Ensemble in a Drama Series and Outstanding Performance by a Male Actor in a Drama Series for leading man Steve Buscemi.
Boardwalk Empire returns for its third season this fall. Season one recently came out on DVD, with season two currently available for pre-order.
Are you sad to see Lucy get written out? Do you think Boardwalk Empire should get rid of any more characters? Did the end of season 2 make you more excited for season 3?