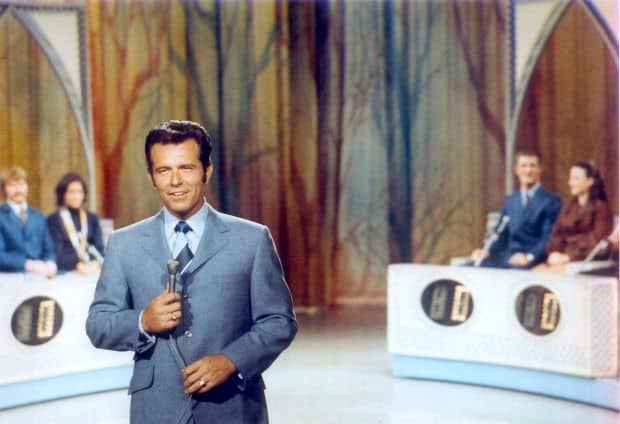 It kind of seems like Bob Eubanks was meant to be famous since he was a child model and was enamored of the spotlight from a young age. He didn't really get into the limelight until later on his life but he hung around the fringes as his interest continued to grow throughout the years. A lot of folks born in the last couple of decades probably can't relate to his fame or why he's important but those of us that have seen reruns of his shows or other appearances might very well understand why he's a big deal. He does manage to slip beyond the notice of many people at this point since he's not a huge movie star and his heyday did kind of come and go, but given that he's been a big name for a while it's still pertinent to mention him as one of those that helped to pave the way for others that came after him.
Here are a few things you might not know about Bob.
10. He gained his fame from the Newlywed Game.
This is the kind of show where your marriage needed to be strong in order to really walk away without any hurt feelings. Bob hosted this show for a long time and likely saw a lot of different people come rolling through. Ever wonder how many marriages survived this show?
9. He helped to finance the Beatles' first performance at the Hollywood Bowl.
Located in Los Angeles, California, the Hollywood Bowl is a popular venue for many performers and is something of an opportunity to play in since it's been around for some time. As a music-lover Bob no doubt felt it was an honor to help the Beatles out.
8. He has a star on the Hollywood Walk of Fame.
There's no need to argue why he has his own star since he's been around for a very long time and has been entertaining people for so many years that it seems right and proper that he be given such an honor.
7. He worked as a doorman for a while.
Yes, he worked as a doorman, opening limousine doors and helping people out as needed. Bob had rather humble beginnings as he wasn't born to rich parents and had to work his way up, but he did it in the hopes of one day making his fortune.
6. He was one of the youngest emcee's to host a game show at age 28.
It does take some experience as well as skill to be an emcee since you really have to be a people person and be able to keep your composure while on screen no matter what. Bob has been one of the best for a long time now and proved that day in and day out.
5. In his spare time he's into rodeos and riding.
Everyone's got their interests and it's kind of surprising to learn of some of them when you really start to dig and find out certain facts about people. But he and his wife have about 26 acres worth of land and so it kind of makes sense that he would enjoy something as exhilarating as horseback riding.
4. He has a long list of friends that are noted celebrities.
Betty White and Bob Barker are just a couple of people he happens to know and calls friend, but the list is enormous and one can only think he's managed to rub shoulders with a lot of very influential people over the course of his long and successful career.
3. He watched a lot of quiz and game shows as a teenager.
The love of being on camera and being part of a show that gets people to think didn't just pop up out of thin air, he was interested from the time he was still young and no doubt was awaiting the moment when he could put that interest to good use.
2. He used to work at JCPenny.
Keep in mind that even the greats had to earn their way up a lot of times as they might have had the ambition and the skill but they still had to gain the needed experience and find a way to get noticed by those that could help them to change their lives.
1. He hosted the same show for over four decades.
He was the host of The Newlywed Game for 45 years to be exact. Just imagine coming to work for over four decades and doing roughly the same thing but somehow still being able to find the love for it every time. It's likely there were bad days but at the same time he came back for a reason.
Bob Eubanks is a name that a lot of us born in the 70s to 80s probably remember at least in passing, but it's one that the current generations should at least learn to understand how the programs they watch today came to be.