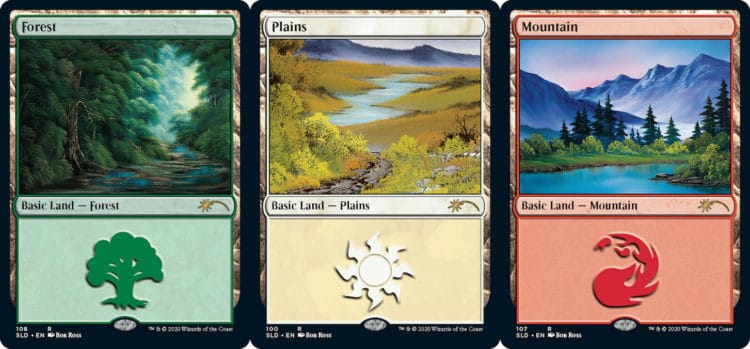 Just imagine a bunch of happy little trees that are being used to play one of the more popular card games and you'll get an idea of what's kicking off with Magic: The Gathering since it would appear that Bob Ross's work is being used to create the scenic landscapes that are being used at this time. There are still a lot of people that don't know much of anything about Magic but it's easy to think that some people will have at least heard of it since the game has been around in the early 90s and has been growing in a big way ever since. The artwork for the card game is amazing to say the least since some of the figures and locations that can be seen on each card are astounding in the amount of detail that's been packed into them, and when playing the game, for those that have played, the appeasing graphics are at least part of the enjoyment. Even if a card isn't that valuable there are certain colors and images that stand out in the human mind in a way that denotes danger, pleasure, and various triggers that can get people to thinking. If the creators of the cards were thinking to create a calm and serene feeling in the players then Bob Ross' artwork was definitely one of the best picks they could have come up with.
Bob Ross has been on a lot of peoples' minds this year and there's at least a few reasons that people should be able to figure out why this is so, not the least of which is that he's a calming influence that a lot of folks need just to get by these days. Plus, he's not an odd choice when it comes to looking at his landscapes since so many of them turned out picturesque and are easy to look at while thinking of what might actually be like to step into those scenes. Magic: The Gathering is a pretty intense game depending on how people play and how serious they can get about it, and to some it's kind of hard to get into simply because the action is all based in your mind kind of like Dungeons & Dragons. Should there ever be a completely effective online or video game experience of either one it feels as though purists of the game would still be inclined to stick with the simpler methods that relied on their own sense of imagination that could could fuel the progress. But with the right images a game can go from being kind of vague if still entertaining to easily understood by every person playing since the images that are given can go a long way towards conveying the impression that a person desires.
For a game that can get as tense as Magic can, being calm and serene could be a good thing, but it could also be a distraction that some people don't like even though they might need it. There are people that play that get insanely revved up when it comes to the game. Some people are insanely competitive, and others just don't like to lose. Card games aren't immune from people throwing tantrums and there's certainly calls of cheating every now and then when it comes to such games. Calming down isn't always as possible as some folks would like since the moment that someone gets bent out of shape about the game is the moment when it starts being a little less fun for those involved. The needed serenity and the reminder that it's just a game is something that a lot of folks tend to need every now and then since otherwise things become less amusing and take on a very serious cast that isn't needed. At that point these kind of images are important since if anyone knows the origin of them then it's possible that they might be able to relax and think of good old Bob standing there on the screen talking to us about 'happy little trees' and 'wet on wet' and putting some of us into a nice, relaxed sleep while others try to figure out just how he completes each landscape so easily.
This is definitely something that a person couldn't have seen coming but in hindsight it's actually kind of obvious since it's not that far off the mark and Ross' work is versatile enough that it could work for a lot of different things. The fact that it can work for a fantasy card game is still kind of amusing since it indicates that even if a person had no idea that such a thing would happen it was something that someone saw merit in and just went for it. Sometimes you can just use whatever's there to begin with in a new way and it just works.