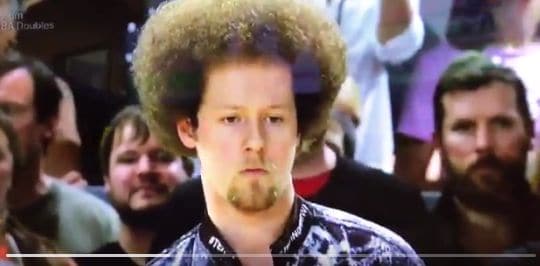 In the world of professional sports, Bowling will never, ever get the respect that either people think it deserves or the sport itself thinks it deserves. I think that even Bowling itself knows what kind of a sport it is, and the league and its players probably respect that. That said, when you've got a guy like this rolling, I could easily see Bowling picking up in steam on the ratings. I don't know who this guy is. I don't know what his name is. I just know the he channels his inner Bob Ross every single time he tosses a bowling ball.
But what this guy to pump up the crowd might be just as cool if not cooler than anything the fictional Ernie McCracken would have done (Bill Murray in Kingpin). Not only is this guy 100% aware of his afro, his way of geeking up the crowd after getting a strike is to actually show off the afro.
This is the single coolest moment in the history of bowling. No one has been this cocky and awesome since Pete Weber and I never really liked Pete Weber. It's just hard to watch guys that cocky and know they are bowlers. Anyway, check this out.
I will watch more bowling 🎳, if this guys is involved . Bob Ross can roll. pic.twitter.com/fJICxpuvWF

— Maximiliano Bretos (@MaxBretosSports) April 16, 2017
Save