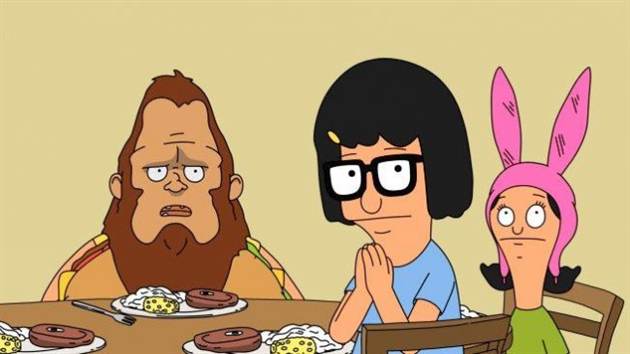 With Tina's teenager problems and Louise taking her first steps toward world domination, Gene can be kind of the forgotten Belcher child on Bob's Burgers. He has his moments of drawing attention from his parents, but for the most part, Gene's very much a pre-teen Statler & Waldorf, throwing in comments on the action around him and being (hilariously) inappropriate. So what does any self-respecting child that's lacking in attention do to take their place in the spotlight?
Get a Sasquatch mask, of course.
After being given the mask through some pop and lock lessons, Gene does everything in his power to get noticed by his parents in the season finale of Bob's Burgers, titled "Beefsquatch". And by everything, I mean he disrupts Bob's morning show audition tape and indirectly gets himself roped into going on the segment with his father. I'm guessing that not too many other cooks had Sasquatch in a burger costume trying out their latest delicacies in their audition video. Leave it to Louise to, instead of bringing the two together, plotting sabotage of one with the other. Break out the peppers and superglue.
This season on Bob's Burgers, Bob's cooking career has always managed to bounce back from any major setback. The bad review, for example, turned into a boon for business thanks to a bring-a-review discount, so he has gotten the hang of dealing with bad PR for his restaurant. But getting on a morning show could be a major help in "defeating" Jimmy Pesto once and for all; can Bob's appearance go well enough for it to have a positive effect on the restaurant? Or is it pretty much doomed to be a failure?
The season finale of Bob's Burgers airs Sunday at 8:30 on Fox. The show will return this fall in the same timeslot.


On the next page, check out two more sneak peeks at the finale, including Louise's pepper guy and what Gene did with his remote control helicopter.