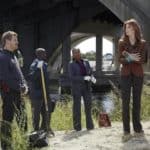 Detective Baker takes the lead in Dr. Hunt's newest case as our friend Bud takes care of business out of town. The case involves a body that has been chopped into pieces. Not the easiest case for a medical examiner, when they are working with body parts instead of bodies. To make the week more fun, Megan's daughter Lacey wants to follow her mom around for a school project, a video about what your parents do for a living.
Megan is hardly going to let Lacey just run free in the morgue, and she writes up a list of questions for Lacey to ask her coworkers. For once, I was able to foresee that the odds were against things going according to Megan's plan. As Lacey interviews each of the doctors in the Medical Examiner's office, they slowly let her in with bits of information about Dr. Hunt, the cases and pretty much everything else Megan had been trying to keep from her.
Finally, Megan takes Lacey into her office and shows her daughter just how much her work means to her. By relating her own daughter's hand to the hand that was found by the river, she opened herself to Lacey in a way that was just beautiful. "They're not just dead bodies to us, Lace. They're the stories of a life, and it's our job to tell it." You could see the respect and understanding grow within Lacey, and that is one result Megan never could have imagined.
I haven't kept it a secret that I adored Guiding Light, and considering the roles Tom Pelphrey (my beloved Jonathan from GL) gets after his run as the bad-boy, I immediately suspected he would be the killer. Turned out I was wrong, but he was still a class A jerk, and I'm dreaming of the day people can see past how easy it is for him to act nasty and give him a role worthy of his talents.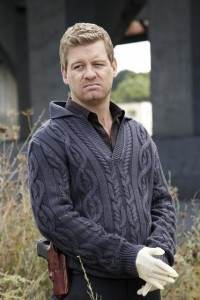 As with previous shows, the suspects pile up so fast and furious, all with good motive, that it's difficult to figure out the perpetrator until they are ready to tell you. I have so much respect for that method of storytelling. There is nothing I enjoy less than watching the crime being committed in the first minutes of a show and then watching the respective squad of police and detectives miss clues we already know. Body of Proof isn't afraid to allow the audience to use their intellect.
Lacey's finished project was heart wrenching. She really understood what her mother did. When she said she was proud to be her daughter, I had a tear in my eye. I'm enjoying how the writers are piecing together the strained relationship they had, in a realistic, no holds barred way. I'm afraid to jinx the project, especially because have had the opportunity to write these early reviews prior to the premiere, and have no idea of Body of Proof's place in the ratings. I am nervous, given that it is up against two of the best dramas on television, The Good Wife and Parenthood.
Tell me what you think so far. Can it successfully compete in it's time slot, and if not, is it good enough to be given a home in a slot where it might be able to stand on it's own merits? My vote is yes. What's yours?
[email protected]
@modwild
@tvovermind