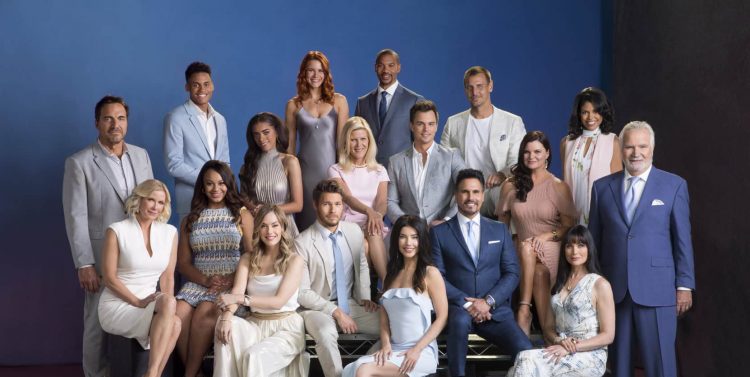 Bold and the Beautiful fans cannot stop watching Brooke week. We love Brooke Logan as much as we love to hate her, and it's all because she's so amazing at all she does. She's a woman who came from very little, got all of it, and then managed to work her way through more than a few families of men. She's been married to her daughter's husband, her sister's husband, her husband's father, and so many people in between, and the sheer fact that any of these people still speak to her is just amazing to us. We cannot stop loving and hating all she does. Today, we will watch her as she marries Nick. He's the man previously married to her own daughter, Bridget, but let us not confuse him with the husband of Bridget's that got Brooke pregnant and is Hope's father. This is another man, and this is a day that is full of dramatics. Let's take a look back at Nick and Brooke and Bridget.
Nick's Arrival
Shipwrecks happen all the time in LA, right? No? Well, that's how Nick came into town. His ship wrecked, he showed up in LA, his mother happened to be in town, and then he learned that his father is Massimo Marone — who is also the father of Ridge Forrester. Though he did not raise Ridge, so he is not considered his father, but he is now his half-brother. It was all strange and weird, but it was what it was. He came to town, and he immediately found Brooke Logan. She was a beautiful woman with so many interesting facets to her life, and he was happy to spend some quality time with her while he was in town. This was something that worked for him, but it did not work for Ridge. Needless to say, they did not end up being on a good note with one another.
His Wedding to Bridget
After everyone found out he and Ridge were brothers, Brooke decided she wanted to be with Ridge. The two ended up getting married, but it did not go well when all thought he was dead following his fall into a furnace while his new wife and his half-brother were being held hostage. Upon finding out her brand-new husband was dead, she slept with her fellow captive, and she became pregnant. She thought the baby was Nick's, but it was Ridge's, and he was alive. She did not remain pregnant, and things got a little bit uncomfortable from there because she wanted to be with Ridge. Meanwhile, Nick fell for Bridget, Brooke's daughter. She married him, though there was a small issue at the wedding when Taylor rolled in not dead as all thought she was.
Nick and Taylor
When she and Ridge did not work out, she and Nick became very close. They both wanted someone else, Ridge and Brooke, but those two were with one another, and that was not possible. They decided to begin a relationship with one another that worked out nicely for them, but it did not work out nicely for anyone else. However, they ended up getting married, and they were happy for a moment. They decided to have a baby together, but their doctor accidentally gave Taylor one of Brooke's eggs, and their baby is actually Nick and Brooke's. Is it a coincidence that their doctor was Nick's ex-wife, Bridget? Probably not. Either way, this did not work out for them when Brooke found out and fought for partial custody of their son. She got it, and Taylor could not handle it. She began drinking heavily, and things did not work out with her and with Nick.
Katie and Nick
To add a final insult to all the injury that happened with Nick, he also decided to have an affair with Katie after her transplant. That would be Bridget's aunt, Brooke's sister, and just a mess in general. When Katie became pregnant, her sister was furious enough to slap her. However, Katie's pregnancy did not last, and that was a horrible situation. It's been a while since we've seen Nick in town, but he's managed to cause a lot of chaos.