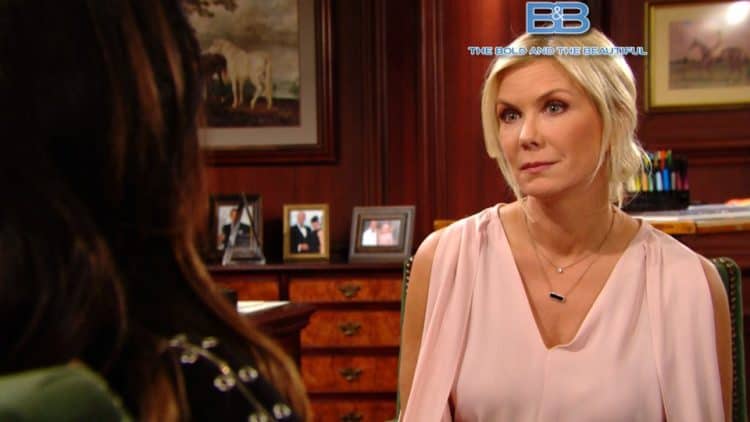 Bold and the Beautiful fans cannot get enough of Brooke. We never have, we never will, and we just cannot imagine the show without her. She's played by the gorgeous and talented Katherine Kelly Lang, who just so happens to be one of the original actresses from the show. She's done all she can for this show from day one, alongside the lovely Eric Forrester — played by John McCook. They are the only two who were here on day one and still remain to this day more than 30 years down the road. Because Brooke is such a decadent treat for all of us, we get to see this entire week all about her, for her, and with her in mind, and this is a day in which she's not having any of it with Taylor. The woman who has Ridge's kids, who is the other love of his life, and who makes her miserable. But, let's all take a moment to get to know the lovely Katherine Kelly Lang one more time.
She's a California Girl
Not too many women are born and raised California girls on television, but she is. She was born and raised in Hollywood. Her birthday is July 25, 1961. Her father is Olympic Skiier Keith R. Wegeman and her mother is Judith Lang. Her grandfather is the famous Oscar winner Charles Lang. It did only make sense that a child born into this kind of famous family would also take on some of their famous roles and their famous ways, would it not?
She attended school in Hollywood, too. She graduated from Beverly Hills High School. She was there with many of the most famous people in the world's kids, as so many people are. There is a lot happening here that is so exciting, but to graduate here is a cool thing.
She's Been Married Fewer Times Than Brooke
Brooke has been married to just Ridge at least a million and three times, but Lang herself has only been married twice. She was married to from 1989 to 1995 to a man by the name of Skott Snider. She married her second husband, Alex D'Andrea, in 1997 and divorced him in 2014. She has three children. Her two sons were born with her first husband while her daughter was born with her second husband. Neither of her marriages worked for reasons unknown to us other than the fact that she filed for divorce citing irreconcilable differences in both instances. That can pretty much mean anything, but we'd imagine that they simply grew apart and had a few differences with one another. It happens, and that's all right. We don't know, however, whether they coparent their adult children and grandchildren at this point. Wouldn't that be fun and sweet?
She's a Grandmother
Not only does the lovely Lang have kids of her own, she also has grandchildren. Her youngest child, her daughter Zoe, was born in 1997. In 2018, at the age of 21, she made her mother a grandmother by giving birth to a little girl of her own. Her daughter is Zuma, and her grandmother is just as excited as any grandmother to have another little love in the family to spoil and adore. Who isn't? We hear grandchildren are the best part of being a parent.
She's Been On Other Shows
She's so good in this role that this is not the only time she's played Brooke. She also took her role over to the Young and the Restless a long time ago to work opposite another famous man by the name of Victor Newman — or Eric Braden if you're into real names. She was good over there working with him and with Jack and Ashley, and she was so excited to take her character to the new show. What's funny, though, is that the actress had been on the same show in the past. Many years before she took on her role as Brooke Logan (and all those other last names), she was also on YTR as a person called Gretchen. That was 1981, so she was not new to this set, but her character was new.